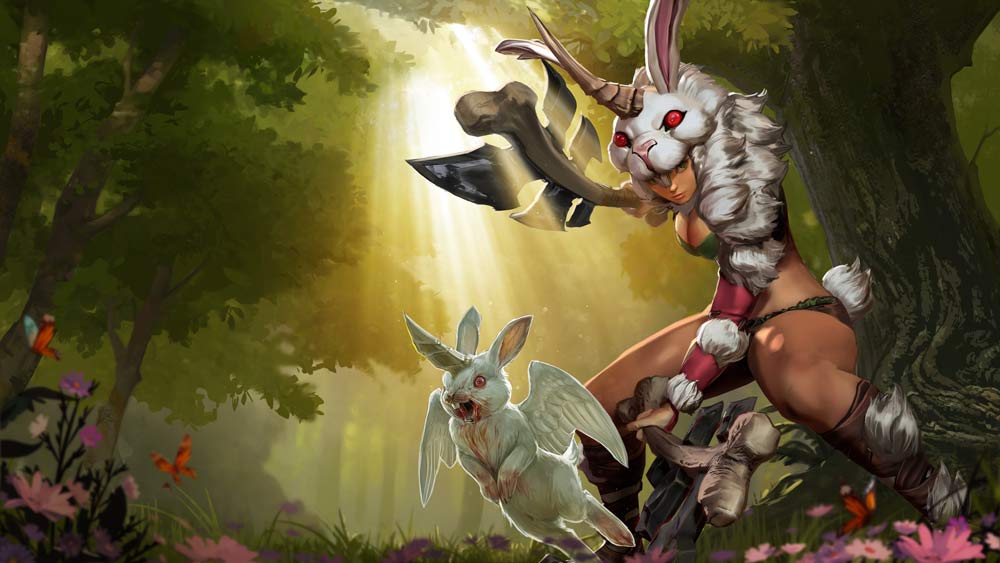 Killer Bunny Rona hops into the fray in Update 1.17 as a limited-edition Spring skin. This is the most animation-rich skin ever released, giving her a new, frightening presence in the Fold. Best of all, you can unlock her simply by playing daily matches, with no ICE necessary!
Check out the details & video below, and read on for how to unlock her during the Killer Bunny Rona card event …
---
WATCH 'KILLER BUNNY' RONA IN ACTION!
New Into the Fray animation (butt-bumping the ground)
New Foesplitter first-activation animation (skips and runs in style)
New Red Mist animation (furious war-twirl you won't forget)
New obsidian axe blades with chips flying away at every hit
And more!
---
GET A WIN. GET A CARD.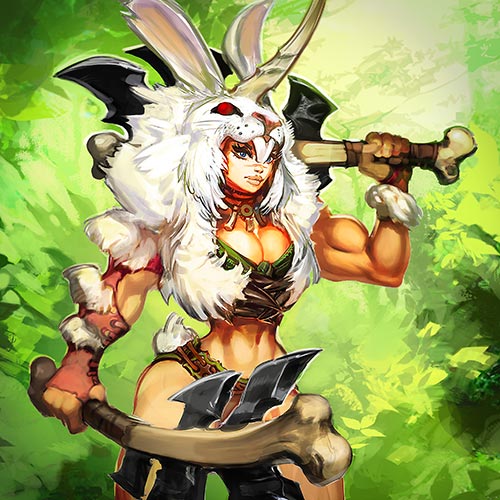 Celebrate Spring with the new Killer Bunny Rona Card Event: Collect 20 of these limited-edition Legendary cards by playing during 1.17 to unlock the skin. Here's how it works: 
When you get your First Win of the Day, you'll get your usual Glory bonus and a Killer Bunny Rona legendary card.
Do this each day during 1.17 to get all the cards you need for the limited-edition skin.
Miss a day? Don't worry, there's a special ICE Box to help you catch up, but if you win a match every day, you won't need to use any ICE at all!
Bonus days to play! You only need 20 cards, but there will be approximately 28 days to play before Update 1.18 is released. (When the 1.18 server downtime begins, the Rona card event ends.)
---

READ 'KILLER BUNNY' LORE: 'RONA VS. SKVADER'
The white-furred monsters flew up from the snowdrifts, at least a score of them, wings spread, horns spiraling up between long ears, eye level with Rona's knee.
Rona cursed, dropped her pack, unleashed the axes from her belt with practiced thumb flicks. "Always skvader," she groaned, eyes flicking from opponent to opponent as they circled her, shrill squeaking sounding from between their mean, nasty, pointed teeth.
Read the rest of 'Rona vs. Skvader' here!
---
INTERVIEW WITH SUPER EVIL ART DIRECTOR CHAINSAW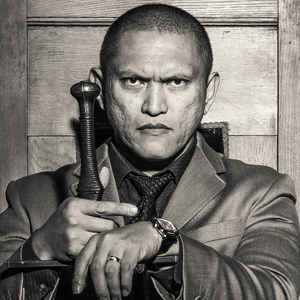 "Killer Bunny Rona makes sense for spring. A flower Petal skin is too obvious! I wanted to tap into the energy of the Rite of Spring, which is super energetic. Rabbits are associated with that, and in Vainglory lore, Rona fought bunny-like creatures called skvader.
"Rona is our berserker, which can literally mean "bear skin" because Norse warriors wore them during battle. I thought it would be cool to see a berserker wearing a bunny skin. Rona is fast, she hops, so it felt like a solid opportunity to enhance that and inject a sense of humor. We gave her a skipping animation that turned out more terrifying than cute, which basically sums up Rona. She looks good and pure like a cinnamon roll, but she smashes face."
---
The 'Killer Bunny Rona' card event begins with the release of Update 1.17 and runs until the release of Update 1.18 about a month later. Play every day to collect all the cards you need!