Dig deeper into the toy box to discover 'Broken Doll' Alpha Tier II, the pretty-prettiest of the dollies with a plan to save a little girl …
---
CHECK OUT HER IN-GAME FOOTAGE & 3D MODEL: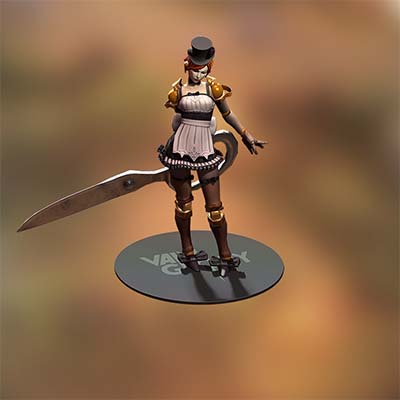 SKIN HIGHLIGHTS:
New scissors weapon!
Pretty-pretty dress
Golden dolly joints
Shiny bows on her shiny booties
Fancy lady's top hat
---
TIER II ALTERNATE FATE:
Pretty-Pretty
Read Part I: 'The Loud Voice & the Quiet Voice'

You think she'll come back to us? You're dumb. She can't come back know why? Because she can hear the quiet inside voices of the grownups and grownups are afraid, so they make her stay in a little room with a little window.
You have just that ugly jacket but I have the pretty-pretty dress and the pretty-pretty hair so I'm the prettiest so I'm in charge and we aren't going to wait any more. You take your knife and I'll take this sharp thing I found in Mama's sewing room and we will go to the Bad Place and save her from the Bad People and if they try to stop us we will put our sharp things into their soft-soft eyes, and she will never have to eat the candy again, and we will play house just her and us dollies forever and ever and…
To be continued …
---
CANON ALPHA LORE:
---
Check the in-game Market every Friday for a new skin release!