'BONECRUNCHER' PHINN TIERS I, II & III!
What happens when Phinn is exposed to too much Churn out in the wilderness? Find out in this new 'Bonecruncher' skin theme releasing during Update 1.17 and collect them all!
---
WATCH: 'BONECRUNCHER' PHINN TIER I
WHAT'S NEW
Churn-addled pale skin
Bonecruncher army grapple
Treacherous tail spikes
Raking anchor
Churn-themed Susie the Birdie
---
WATCH: 'BONECRUNCHER' PHINN TIER II
WHAT'S NEW
War helm with neck-protecting spikes
Arm bracers & armored knees
Evolving Bonecruncher model based on Churn exposure
---
WATCH: 'BONECRUNCHER' PHINN TIER IIII!
AWESOME NEW TIER III EFFECTS
Green flames and black smoke erupt from Quibble and Polite Company ground smashes!
Sparks fly during Phinn's Forced Accord
Smoldering dragon-wing hook
Creepy Tyrant's Eye keeps watch atop a formidable tower
---
'BONECRUNCHER' PHINN LORE (EXCERPT)
by SugarVenom

T'was a bad time back then, when Churn made the river all burpy-bubbles and the minnows grew big enough to bite through my ankles and the weeds became snappy-jawed carnivores. Back then I was a wee lad, only thirty-five stone or so, green and fish-hungry all the time, but mum and I drank the bubbled water and changed, went pale and lost our senses.
Mum became a Bonecruncher first, eyes gone wild and loathesome, then I turned and we both served the Tyrant who ownt it all. Was the Tyrant who made an army of us peaceful fishertrolls, twisted our thinking, bolted armor on us and made us fight. Don't remember much from back then. Lots of fighting, learning how to grab at things with me grapple hook. I got big and strong and the Tyrant made me his personal guard troll. In the end, was I who had the duty of carrying around the Tyrant's eye, so was I who was at fault when the Tyrant was defeated by the eye poking… but that's a story for after lunchtime, isn't it? Who wants a fish sandwich, then?
Check in-game NEWS > HERO LORE to find lore for all Update 1.17's skins. That lore and more will be rolling out periodically between now and 1.17's release.
READ PHINN'S CANON LORE:
I. PRINCESS KIDNAPPED!
II. Social Climbers
III. No Use Resisting!
IV. Ruffians!
V. Love's Failed Kiss
---
INTERVIEW WITH SUPER EVIL ARTIST CHAINSAW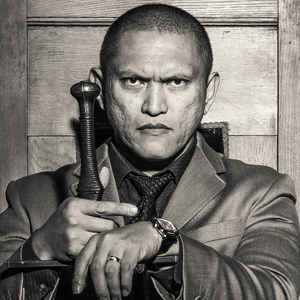 "The Halcyon Fold is a quiet area in the Vainglory world. Much of the planet is wrecked by wild energy called Churn that changes geography, mutates creatures and spawns powerful beings. Sometimes, the Churn itself comes to life. In this Churn-inspired skin theme, we're exploring the idea of beings transformed by the Churn. Despite world politics and the concerns of our heroes, Churn can take everything away, or make it unrecognizable.
"Churn has turned Phinn from the kind and protective river troll he was into a rock-crushing, bone-grinding servant. His green skin grew pale and dangerous spikes grew out of his tail. His will is not his own. He's a big, mean siege engine. When his Tier III skin smashes the ground, churn glows out of the cracks in the earth and spews from his dragon-wing hook. I designed the Tier III skin to look like the rook on a chess board."
---
Keep an eye on the in-game News section for more update 1.17 reveals!