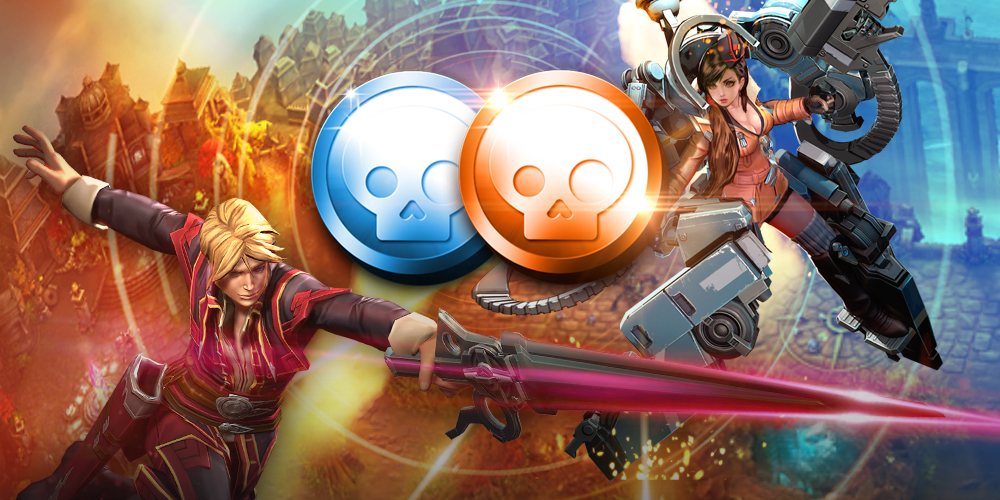 In the spirit of trying new things, we're ready to unleash Vainglory's newest game mode: Blitz Beta. Blitz is a new, intensely fun gameplay format designed for short, five-minute sessions. It is still very much in development and will likely evolve with time, based on community feedback.
Let's say you have a set amount of time to play a game. Maybe you're on a bus and your stop is coming up or you're waiting in line at the movies. Wouldn't it be great to be able to jump into Vainglory and know exactly how much time it would take to finish a match? That's the thinking behind Blitz. Whereas Battle Royale and Casual matches are objective-based and can go on indefinitely, Blitz is the first mode in Vainglory to have a countdown timer and a definitive end. Now, you can hop into a quick, intense match when you only have five minutes to spare — and know it will end when you need it to.
We saw an opportunity to add a more compact, quicker gameplay mode that is also great for new players. We hope Blitz delivers on that promise, giving players the perfect opportunity to try out a new hero, item build or strategy in an action-packed session.
HOW TO PLAY BLITZ BETA
Objective: Reach 15 points before the enemy team
The five-minute game ends one of two ways: Reach 15 points or run out of time.
HOW TO EARN POINTS
A team scores points by killing enemy heroes or taking out objectives.
Enemy heroes: 1 point each
Objectives (Turrets, Crystal Miners, Gold Miners): 3 points each
You and your teammates will have to strategize what is more important — the lane or the jungle — and either play conservatively or aggressively depending on how close you are to 15. Suddenly, chasing down that fleeing Koshka takes on a whole new level of tension — securing the kill will bring your team closer to victory but if you're caught and killed, then it could be game over.
Players start the match at Level 9 and with 6000 gold. So, you get to test your new item build strategy immediately. Maybe you start Lyra with Shatterglass and overdrive her Imperial Sigil. Or maybe you start with a Fountain of Renewal or Contraption and focus on keeping teammates alive.
Blitz Beta is still in many ways a work in progress, but we're excited to share it now and get as much feedback from you as possible as we look for the perfect five-minute version of Vainglory. We can't wait for you to try it out!
RULES SUMMARY
First team to score 15 points wins
1 point per kill, 3 points per objective (Turret, Gold miner, Crystal miner)
At 5 minutes, team with higher score wins.
If tied at 5 minutes, goes into sudden death and the next score (of any kind) wins
Players start the match at Level 9 and with 6000 gold.
Unlike Battle Royale, players can select their hero before the match
Unlike Battle Royale, players can recall back to base
Unlike Battle Royale, the entire map is open
Hero respawn rate is 12 seconds at all times.
Lane minions and jungle monsters are worth more gold & XP than standard modes.
---
For more Update 2.1 previews, check out the in-game News section.