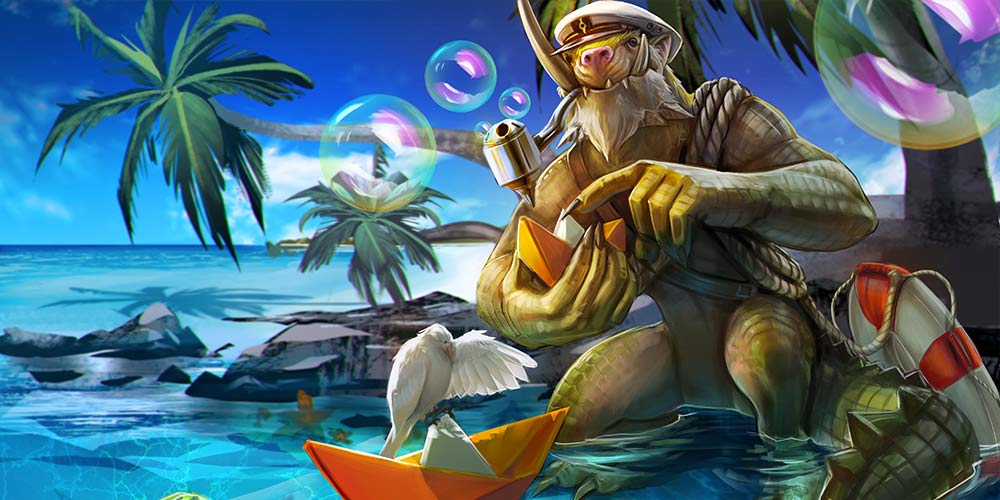 You thought all of the Summer skins had been revealed … not so! Just when you thought it was safe to get back in the water, it's Summer Party Phinn. Right now, this skin is only available as a special prize for attending upcoming Summer live events. So, check the listings and locations below, and experience the electricity of Vainglory action in person.
---
ATTEND THESE EVENTS LIVE TO GET THE SKIN
Amazon Appshop booth at Gamescom in Cologne, Germany (August 18-21, 2016)
North America Summer Live Championships in Seattle (September 3-5, 2016)
Europe Summer Live Championships in Cologne (September 9-11, 2016)
PAX West Twitch booth in Seattle (September 2-5, 2016)
If you're near (or can travel to) Seattle or Cologne, grab your tickets to the Summer Live Championships in advance now:
---
SKIN HIGHLIGHTS
Captain's hat to show you who's in charge
Life-preserver for safety
---
Summer Party Phinn Alternate Fate: 'The Lifesaver'
"Was me who saved the pretty girl from the shark, even though Muscles and Zombie over there want the credit. I saw the shadow of that toothy beauty from the deck of my boat and did what any good captain would do: threw the lifesaver out. Of course the boat was way off in the deep water, but I can throw pretty far when I put my mind to it. Was a nice change, saving a pretty girl instead of stealing her for once." —Phinn
---
MORE SUMMER LORE
---
Note: Summer Party Phinn is NOT the third mystery summer skin! This is an extra bonus skin.