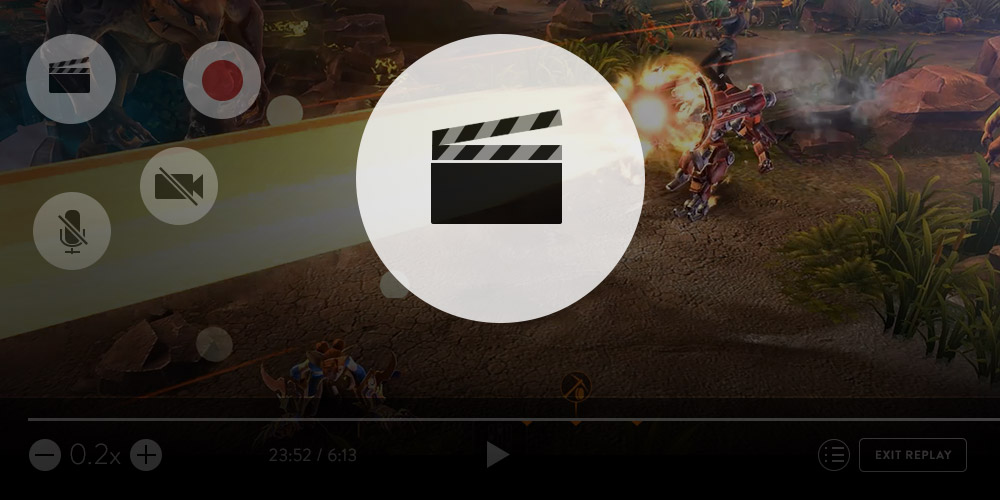 Ever wanted to share a cool moment from your match — complete with the pans and zooms you see during esports broadcasts? Or slow down the action to half speed to see where the damage came from that killed you so fast? Or study your opponents' path through the jungle from their perspective to see how they beat you?
Soon you can.
Update 1.24 introduces a suite of new features for broadcasting, sharing and rewatching your Vainglory play. Stream your matches. Watch replays with slow motion. Create game highlights from different angles and with different zooms. The power to shape your Vainglory experience just got a huge upgrade.
---
Part I: Record & Stream Direct from Your Device
For a long time, we've wanted to provide content creators with the in-game tools to record, craft and share their Vainglory experiences. Now you can stream or locally record your epic Ranked match, share the moment when a Special Edition skin popped out of your Season Chest or post a highlight of a play you're particularly proud of.
These advancements make it possible for established and aspiring content creators to expand their audience and mobile presence, while opening up fantastic new opportunities for players to learn and be entertained. And if you've wanted to start streaming Vainglory, now you have a simple, effective solution to take the plunge.
---
How it works: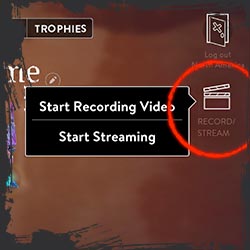 Go to your in-game Vainglory profile and tap the "Record" icon to stream or record. You can also do this from the post-match replay screen.
If you are using Android 4.4 (KitKat) or above or iOS 10.1, the icon will bring up the recording menu directly.
If you have iOS 10.1, the "Record" icon will provide the additional option to "Stream." You can broadcast to a growing number of streaming services that support Apple's ReplayKit technology.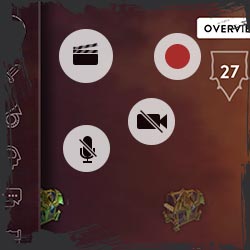 Once a recording mode has been selected, three buttons appear that allow you to turn on/off the microphone and front camera, as well as toggle recording on and off.
Tapping your face will bring up the recording interface or hide it.
You can drag this menu and the front facing camera view around as needed.
Below iOS 10.1, these features are not supported because Vainglory has integrated Apple's ReplayKit. Consider updating your device if interested.
There's no limit on video length, but media does tend to require a large amount of storage space on your device.
---
Part II: Rewatch Your Matches with Free Camera & Slow Motion
Want to relive your triple kill to seal the game? Want to see the Kraken steal from a different perspective? Want to understand what exactly happened that turned the tide of that teamfight? Now, you can watch a full replay of your latest game, complete with a free camera, pans and zooms. You have all the bells and whistles at your disposal that you see during professional broadcasts!
At the end of each match, there will be a new button on the end-game scoreboard that allows you to watch and record a replay of that match.
The replay offers a timeline that will automatically highlight when turrets were destroyed, when the Gold Miner was taken, when the Kraken was captured and when the Vain Crystal was destroyed. You can skip ahead or rewind using the scrub bar on the timeline at your discretion. You can also shift the camera away from your own hero to any place on the map you want. Curious how that enemy Taka reached level 6 so quickly? Watch his path through the jungle and learn! The opportunities to improve from previous matches — both from your allies' and opponents' perspectives — is something with infinite potential.
There's also a slow motion feature that will allow you to control the speed of the video. Want to savor your Lance landing that triple impale? Tap a button to watch that pivotal moment in half or quarter speed. You can also record from replays. Simply drag your finger to the point on the timeline you want to see recorded, tap the "record" button and then tap it again to end recording.
Worth noting: If you exit the game or play another match, that replay is lost unless you've actively chosen to save it.
---
Recap:
Watch a replay of your latest match
Each replay offers a highlighted timeline of important match events
Use the free camera to pan, zoom and change angles to see the action from different perspectives
Slow-motion controls allow you to watch and record the action in half and quarter speed
Go to your profile and tap a button to broadcast or record
Cut, save and share your highlights. Show off to your friends.
Watch others' highlights to learn and get better!
Relish victory. Learn from defeat. Relive past glory. Enhanced replays make it possible.
These recording, streaming and rewatching features are just the next milestone in an ongoing effort to make Vainglory a more social, fun experience for all. We can't wait to see what kind of amazing content players create.
---
Check the in-game News section regularly for more Update 1.24 reveals and previews.