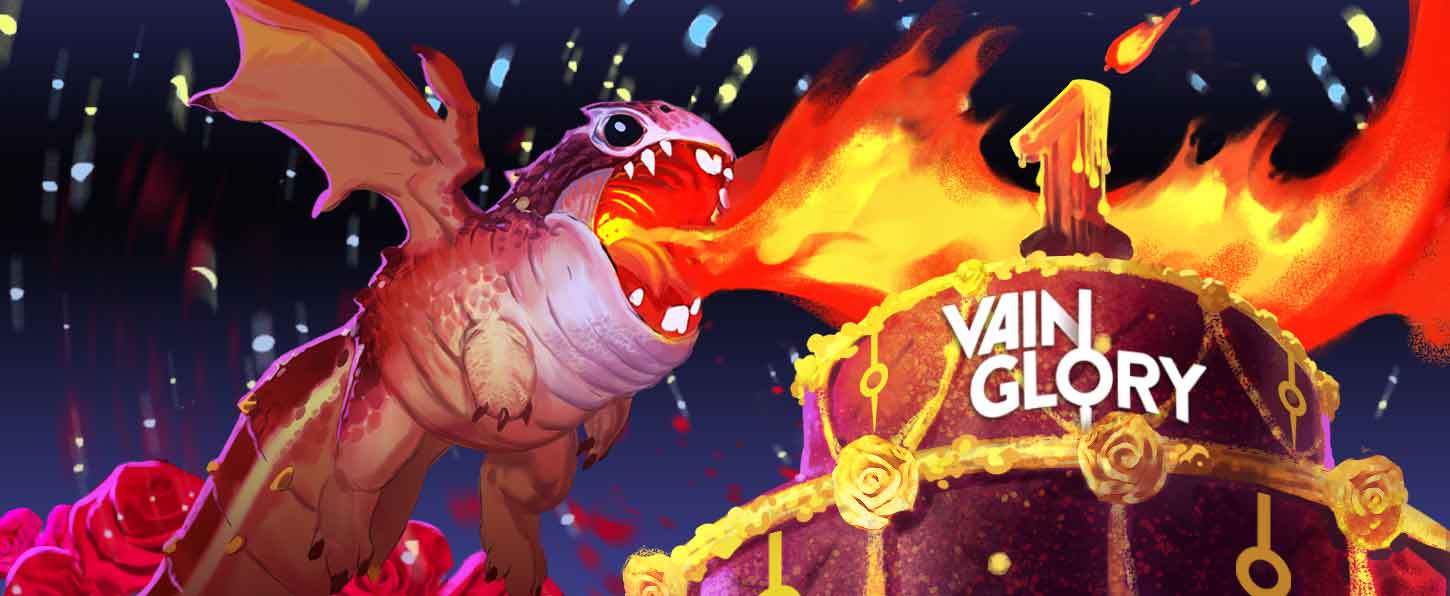 Vainglory is one year old! And coinciding perfectly with this special occasion is the incredibly important, incredibly huge launch of Vainglory in China. To celebrate, Super Evil and Giant Interactive have together lined up a week of special events!
---

EVENT SCHEDULE FOR ANNIVERSARY WEEK (TIMES IN PST):
NOW – Double Glory Week: For the first time ever, all players for an entire week will receive twice as much Glory (Vainglory's earned currency) from playing matches. Use this currency to unlock more heroes, skins and cards.
THURSDAY – China Launch Party! Watch this event broadcasted live, featuring star Chinese Vainglory player QUEEN and special celebrity guests. Channel and schedule will be confirmed and shared in the in-game News section soon.
FRIDAY – Vainglory Anniversary special dev stream: Join us as we look back on a wild, crazy year! Anyone remember the marquee feature of update 1.03?
SATURDAY – 'Cards Crazy 8!' – 8 Wins, 8 Cards: For 24 hours, every time you win a match, it will drop a card. The quality of these cards is guaranteed, as follows:

Wins #1-4: Guaranteed a Rare card each match.
Wins #5-7: Guaranteed an Epic card each match.
Win #8: Guaranteed a Legendary card!
This crazy card event begins at 4PM PST / 7PM EST / 00:00 GMT and runs for 24 hours!

SUNDAY –  VGL Quarterfinals on twitch.tv/vaingloryleague
TUESDAY, NOV 17 – Blackfeather Hero Reveal livestream: Watch Blackfeather played for the first time in full Vainglory matches on a special test server!
It's amazing how much the game has grown during the past year (even before launching in China), and that is entirely thanks to all you amazing, dedicated players who have played, stuck with us and helped us improve. Together, we're creating something special, both in terms of the in-game play experience and the competitive eSports scene.
We are so grateful that you continually choose to play Vainglory, and we will continue to work as hard and as late as we can to make the game better for you. This has been, and always will be, a dialogue between devs and Community. We are in this together, and we are always listening, taking notes and step-by-step improving the game based on your amazing feedback (and occasionally game-breaking strats).
So, join us in welcoming all the Chinese players to the Fold, play all week during Double Glory, win as much as you can during the 24 hours of "Cards Crazy 8," watch the best teams in the world battle in VGL and tune in Friday for the special anniversary dev stream and Tuesday for the Blackfeather reveal stream! It's going to be a huge celebration honoring you, our players. GLHF!  —PlayoffBeard