Following incredibly dramatic Autumn championships, VGL returns Jan. 16 with the first of two Winter Season qualifiers in North America and Europe. View and download the brackets here:  NA VGL | EU VGL
When LiberationX (NA) and Media Pixel eSport (EU) look to defend their respective crowns, they'll find a new-look 64-team bracket format. The bracket is now divided into four named sections, each with #1 through #16 seeds.
All matches will be played on Update 1.13, which releases three days before the tournament. The new winter hero, Reim, will be automatically banned until the Round of 16 to ensure he's available with Glory and players have a chance to practice with him. Watch all the action at twitch.tv/vaingloryleague.
---
 NORTH AMERICA BRACKET
Topping the Catherine region is VIPL Season 1 champions GankStars Sirius, who return to North America after more than 6 months of competitive play in Korea. Sirius has a score to settle, but to get a rematch against Alliance, they'd have to wait until the VGL Qualifier finals. Alliance is the #1 seed in the Reim region, returning to VGL not just the team that defeated Sirius in VIPL S2, but also featuring standout players iLoveJoseph, BigPaws and Yazaru3. It's a potential blockbuster finals matchup, but in the deepest and most-talented NA tournament ever, there are a ton of quality teams that stand in the way.
The Adagio region hosts reigning Autumn North America champions LiberationX, who face a potential championship rematch against (2) Nemesis Hydra or dangerous 3-seed Halcyon Hammers Force in the VGL quarterfinals.
VON Menace returns to VGL as the #1 seed in the Ringo region, looking to recapture the magic and dominance they displayed during the Autumn qualifier season. (2) Frame Perfect, (3) revamped LiberationY, (4) The Sillys and talented newcomers (5) Pretty Boy Swag will look to knock off VON and advance to face the Catherine region survivor.
---
EUROPE BRACKET
Defending European champions Media Pixel eSport tops the Catherine region, with a potential quarterfinal against qualifier titleholder (2) SK Prometheus. This Prometheus team has even more talent than before, adding jetpacks to the roster.
Will Winter be the "Season of SNOW," now with two stacked teams after acquiring top competitor Black Hawk? Ringo region features (1) SNOW Avalanche (formerly BLH) along with (2) G2.Kinguin, (3) Team iPooed and a (4) The Nights Watch team to keep an eye on. This qualifier features two G2 eSports teams, with this region hosting a squad with DarkPotato, D1ngo, Tercus and more.
European championship finalists (1) Rebirth of Empire lead the Adagio region, with a potential match against Rebirth of Kingdom as well as super-strong competition in (2) SNOW Tsunami and upset specialists (3) Angry Pandas Black.
Reim region spotlights (1) G2.Kinguin 2, the squad featuring dominant laner Reddix, Tesfaye and VGL newcomers majestiC and Pips. (2) RebelTiger, (3) Kraken and others will prove tough tests, and NA organization Vertigo will debut in EU with (8) Vertigo Onyx.
---
INTERNATIONAL
Winter Season features VGL qualifiers in North America and Europe, with the international scene represented by VIPL. But behind the scenes, logistics are now being put in place to extend official, sanctioned tournaments into Southeast Asia and South America. We're taking our time to get this right, but we're incredibly excited about the potential for these regions and the partners getting involved. Stay tuned!
---
VGL BRACKET CHALLENGE RETURNS
Anyone want to win 20,000 ICE? How about 40,000 ICE??!!!
The VGL Bracket Challenge is back — and this time you can enter your picks for both your NA bracket and EU bracket for a chance to win up to 20K ICE for each bracket!
This concept will be quite familiar for those who watch March Madness and study the sweet science of bracketology. But for everyone else, here's how it works:
---
HOW TO PARTICIPATE
Print out or mark up the NA bracket and/or the EU bracket. (Use whatever's easiest to fill it in, whether that's writing on a napkin, Photoshop or an annotation app, whatever that is.)
Predict the winner of each matchup, all the way through the finals. This will become less and less reliable as you stack prediction upon prediction.
REMEMBER TO CIRCLE THE TEAM YOU THINK WILL WIN THE FINALS!
Fill in the tiebreakers: Add in your guess for the end-game score of last match of the finals and which player will be the MVP of the NA finals. (You can click on teams in the online bracket to find a player for your winning team.)
Tweet your bracket(s) with hashtags #vainglory and #VGLbracket.
Brackets must be tweeted before the VGL Qualifiers begin on Jan. 16 in order to qualify for the contest.
---
HOW WINNERS ARE DECIDED
ONE POTENTIAL WINNER FOR NA AND EU EACH: If anyone tweets a perfect bracket (predicting every winner correctly all the way through the finals) and has a more accurate tiebreaker than anyone else, that one person will win 20,000 ICE! Note: You can have a perfect bracket without correctly predicting the tiebreaker. That is only a tiebreaker in the event of multiple perfect brackets.
GUARANTEED WINNER IN NA AND EU (if no perfect bracket): If no one has a perfect bracket, then the person who predicts the most matchups correctly in NA and separately EU (and wins any tiebreakers) will win 10,000 ICE. That means someone is guaranteed to win at least 10K ICE!
You do not have to fill out both NA and EU brackets! They are separate contests.
You have nothing to lose and potentially 40,000 ICE to gain! So, fill out your NA bracket and EU bracket now, get your friends to do the same, and see if you can either win the grand prize — or have the best bracket in your group or guild! Half the fun is trying to best your friends.  Good luck!
---
If you're not sure what a filled-in bracket should look like, here's an example from Autumn qualifiers: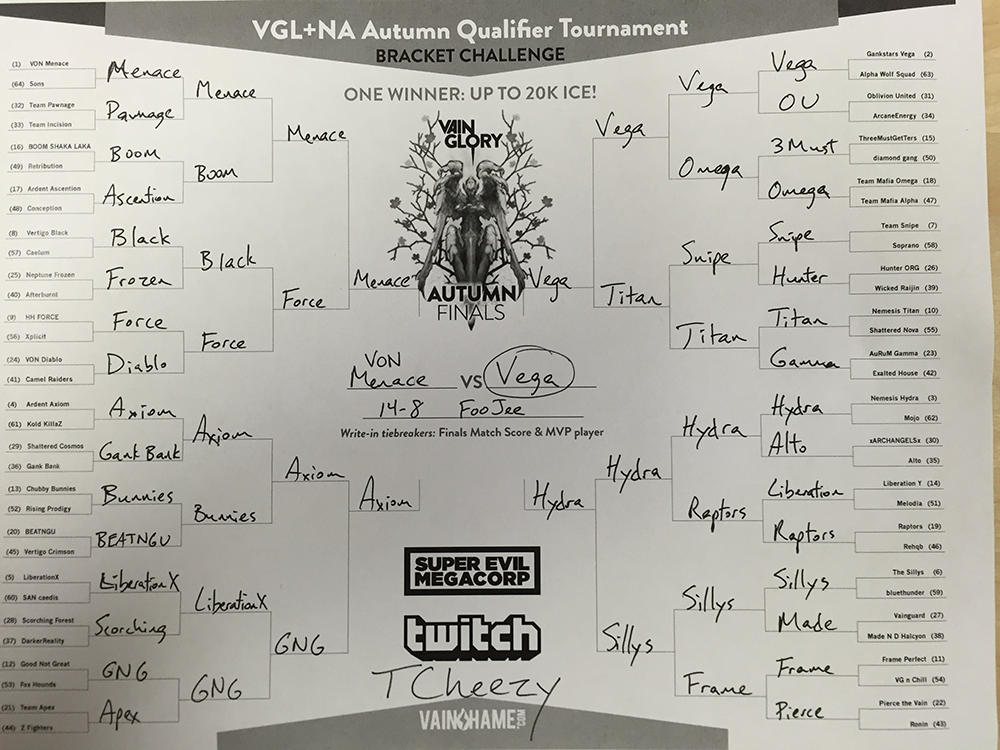 Remember to tweet your bracket with #vainglory and #VGLbracket!