New roam hero Flicker brings his team-wide stealth to the Halcyon Fold. New replay, recording and streaming features let you rewatch matches, share highlights and broadcast gameplay to the world. Plus, there are highly anticipated skins, quest changes and a return to the Autumn map. Read on for all of the details …
---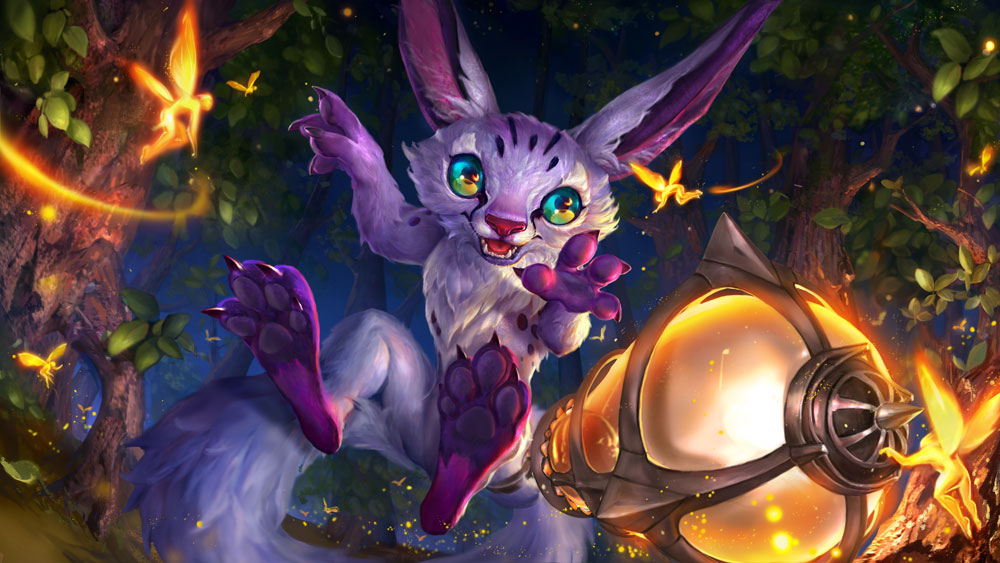 NEW HERO: FLICKER
Flicker is a sneaky trickster able to disrupt foes with debilitating abilities. Utilizing his stealth, Flicker can plunge deep into enemy lines causing mayhem or grant his entire team stealth to initiate on unsuspecting prey.
READ HIS LORE:
---
FLICKER EARLY-ACCESS PERIOD
Flicker will be unlockable with ICE only for the first 7 days. Afterward, you will be able to unlock Flicker with ICE or Glory.

HERO ABILITIES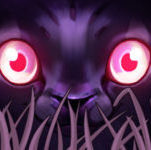 Willow Whisper (Heroic Perk)
Flicker gains stealth and a move speed bonus when in brush for a short duration. Flicker can then leave the brush and remain stealthed for a time. Taking damage or using abilities removes stealth.
---
Binding Light (A)
Flicker commands his fairies to swarm a target location, dealing damage to enemies standing within it. When the effect expires, fairy light roots any enemy heroes still within the area.
---
Fairy Dust (B)
Flicker swirls fairy dust around him, slowing and dealing damage to anyone inside the dusted area. After a short duration, the dust ignites, dealing a burst of damage.
---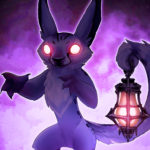 Mooncloak (Ultimate)
Flicker and his allies temporarily gain stealth and a move speed bonus. The stealth will break when a hero uses an ability, attacks or takes damage.
---

NEW HERO SKINS

SHIRO KAGE TAKA (TIER III)

First 10 days – ON SALE: 2699 ICE
Regular price: 3599 ICE
---
BAKUTO RINGO (SPECIAL EDITION)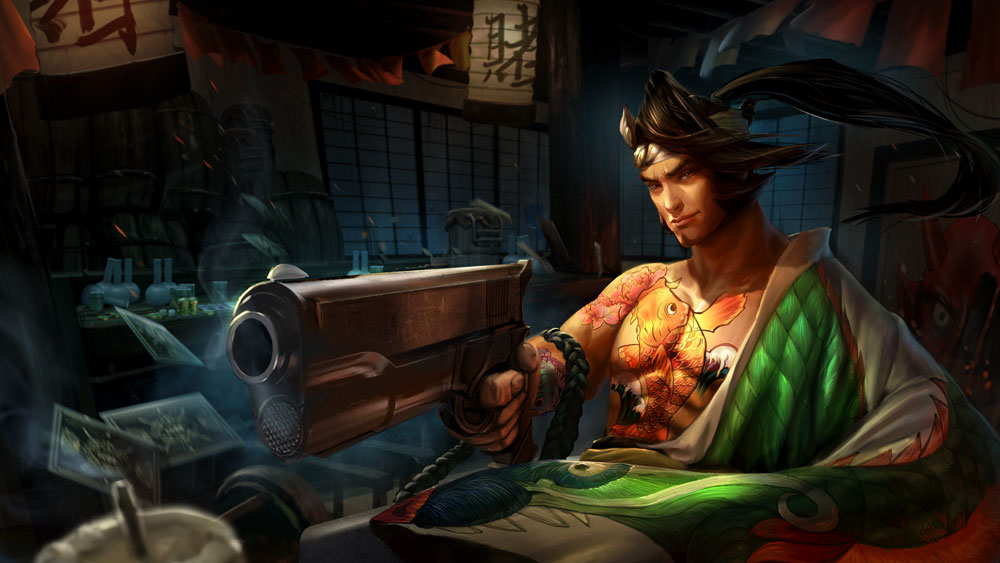 Available in Season Chest only!
Coming to Opals Market next update.
---
SORROWBLADE GLAIVE (TIER II)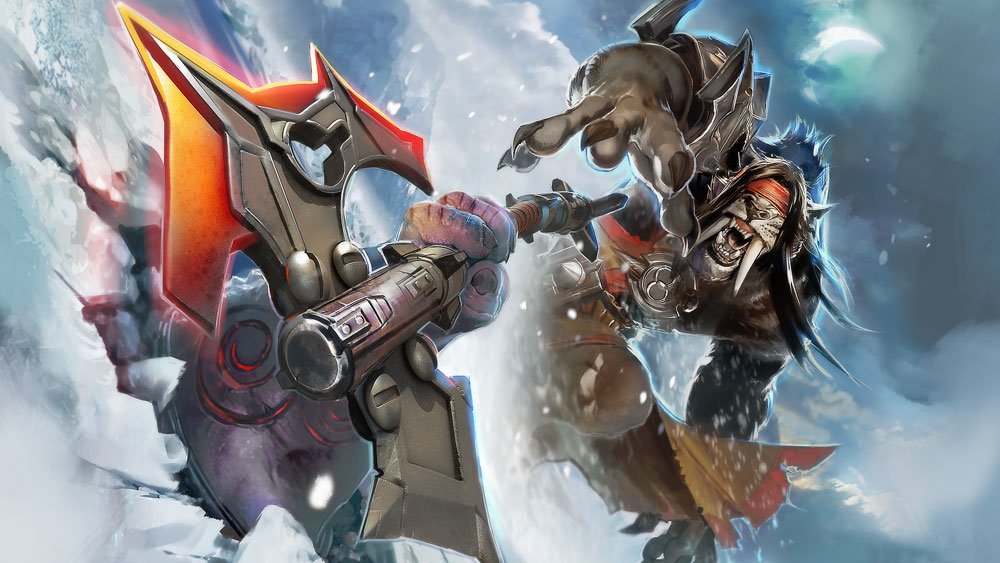 First 10 days – ON SALE: 1125 ICE
Regular price: 1499 ICE
---

NEW HERO SKINS (OPALS ONLY)

These new Special Edition skins will be immediately available for Opals in the Market. Since they are "in-season" for the first time, you can get them at an Opals discount! If you are the proud owner of the limited-edition skins from which these were inspired, you will be automatically granted an unlock to the Special Edition version!
RED LANTERN KOSHKA (SPECIAL EDITION)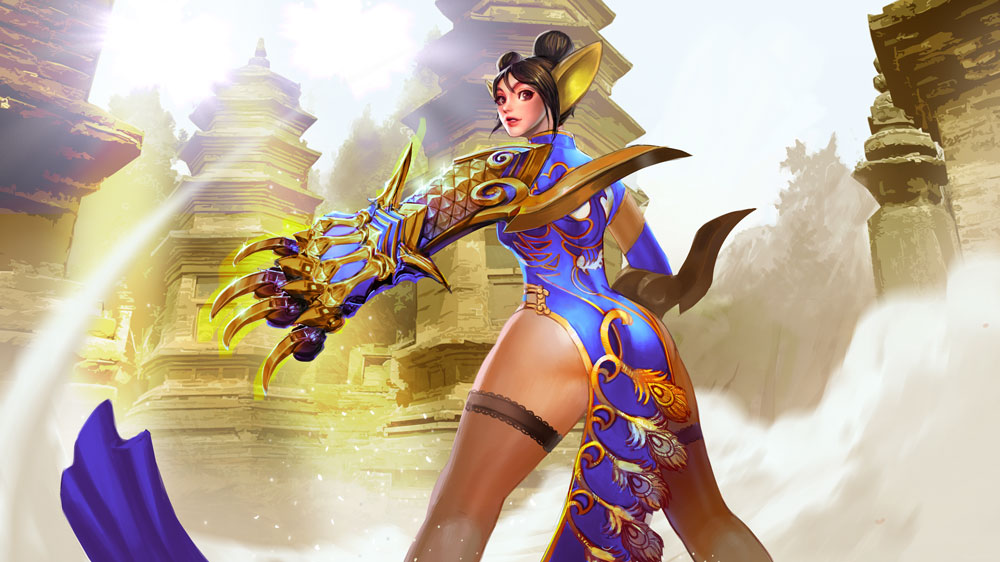 Special Edition change: Shiny blue peacock festival dress
Special Edition change: New popping fireworks explosion sounds
Sparkler ability effects
Dragon claws
---
KILLER BUNNY RONA (SPECIAL EDITION)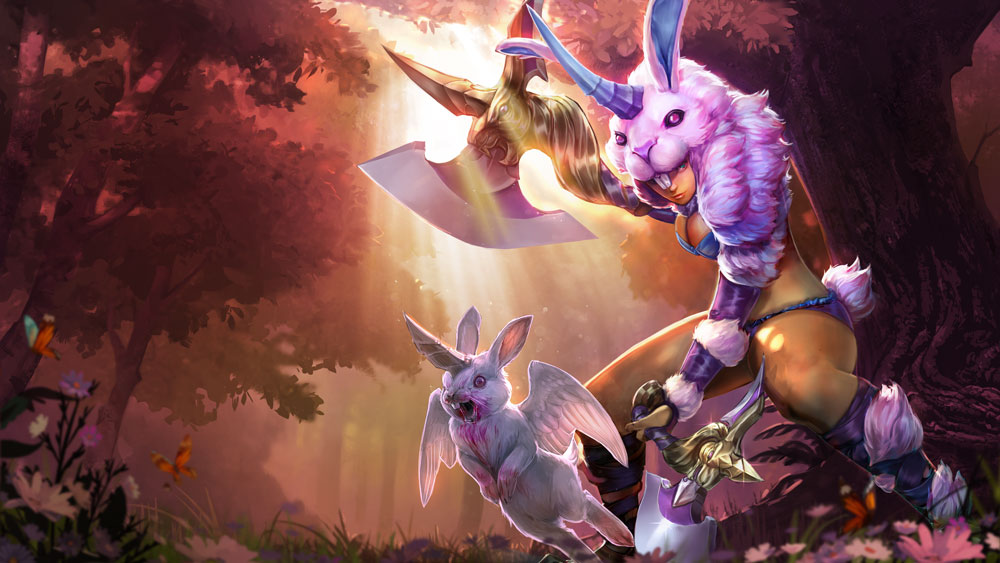 Special Edition change: Cotton-candy pink hair and skvader fur
Special Edition change: Bunny-shaped handles on her steel axe blades
Plus, new ability animations!

---
SUMMER PARTY KRUL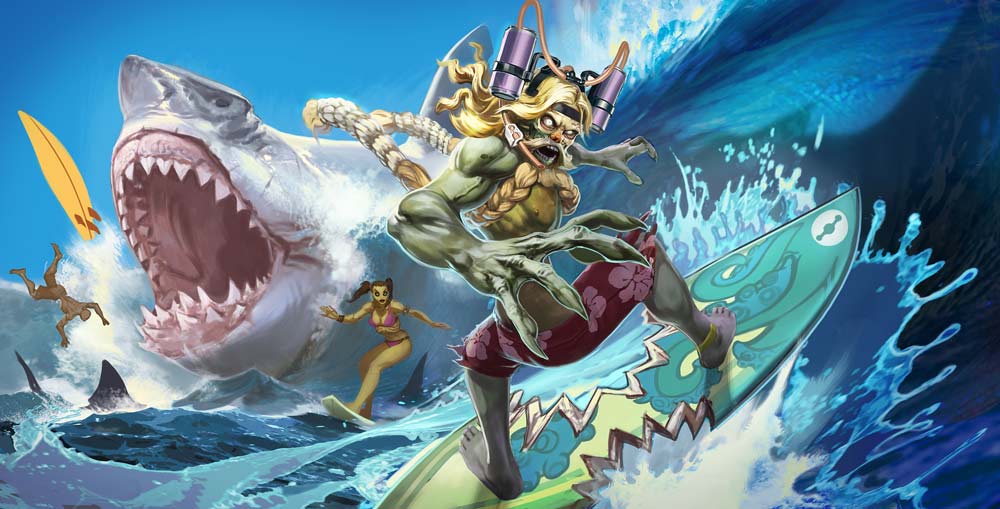 Opals price: 250
---
SUMMER PARTY SAW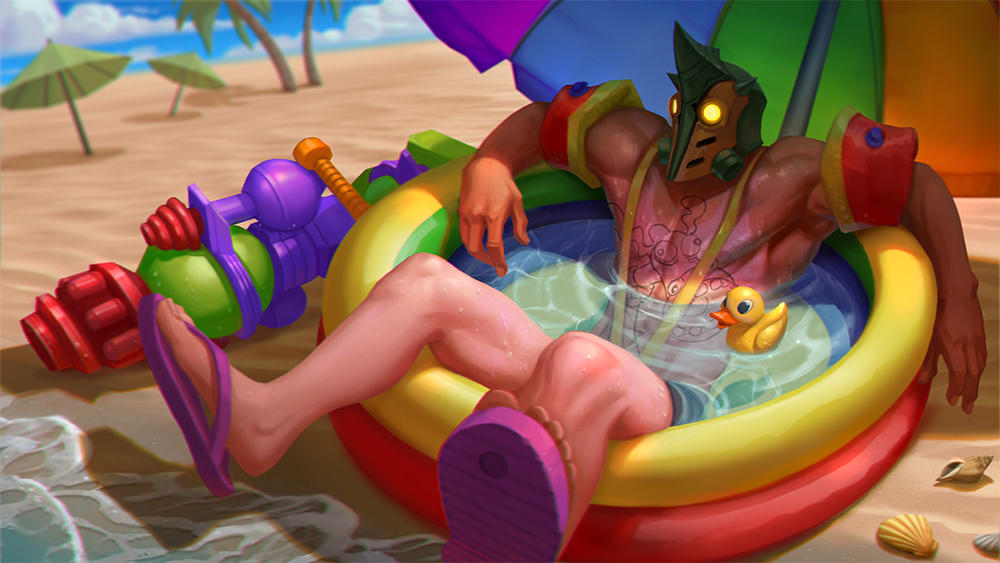 Opals price: 250
---
SUMMER PARTY KESTREL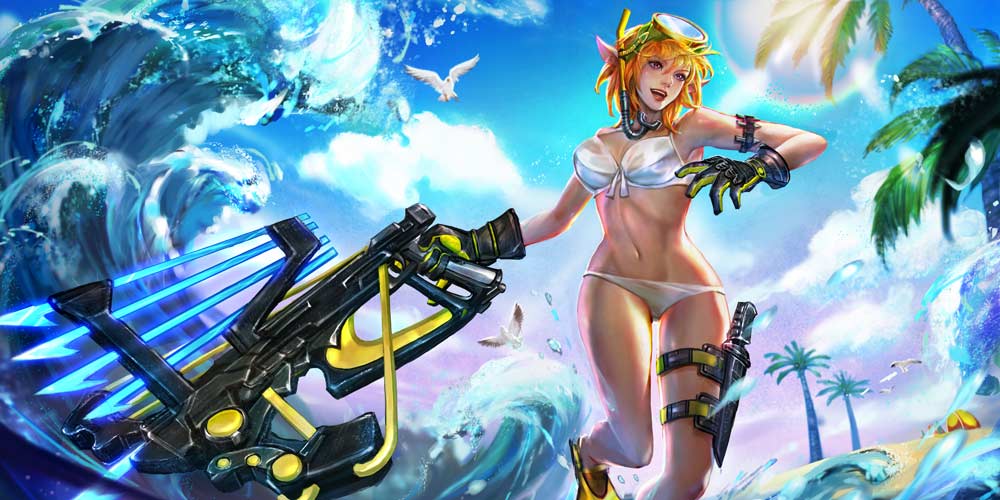 Opals price: 250
---
DAILY DEALS
In 1.24, you'll have opportunity for massive savings. Check the in-app Market each day for deals on your favorite skins, heroes and card boxes. Each day the deal changes so you'll have to act fast!
Rewatch, Record & Stream Your Vainglory Play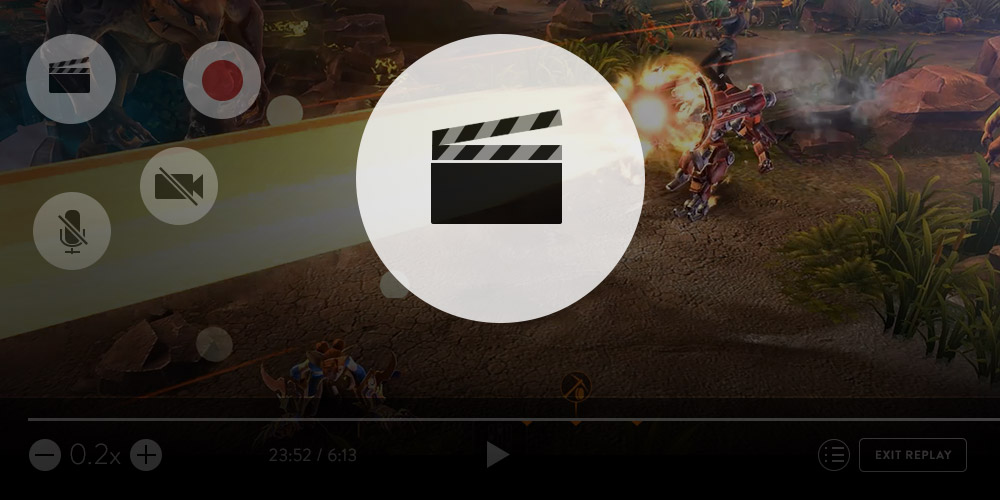 Ever wanted to share a cool moment from your match — complete with the pans and zooms you see during esports broadcasts? Or slow down the action to half speed to see where the damage came from that killed you so fast? Or study your opponents' path through the jungle from their perspective to see how they beat you?
Soon you can.
Update 1.24 introduces a suite of new features for broadcasting, sharing and rewatching your Vainglory play. Stream your matches. Watch replays with slow motion. Create game highlights from different angles and with different zooms. The power to shape your Vainglory experience just got a huge upgrade.
---
Part I: Record & Stream Direct from Your Device
For a long time, we've wanted to provide content creators with the in-game tools to record, craft and share their Vainglory experiences. Now you can stream or locally record your epic Ranked match, share the moment when a Special Edition skin popped out of your Season Chest or post a highlight of a play you're particularly proud of.
These advancements make it possible for established and aspiring content creators to expand their audience and mobile presence, while opening up fantastic new opportunities for players to learn and be entertained. And if you've wanted to start streaming Vainglory, now you have a simple, effective solution to take the plunge.
---
How it works: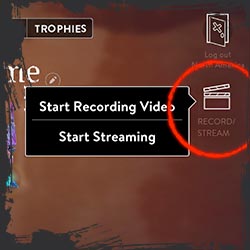 Go to your in-game Vainglory profile and tap the "Record" icon to stream or record. You can also do this from the post-match replay screen.
If you are using Android 5.0 (Lollipop) or above or iOS 10.1, the icon will bring up the recording menu directly.
If you have iOS 10.1, the "Record" icon will provide the additional option to "Stream." You can broadcast to a growing number of streaming services that support Apple's ReplayKit technology.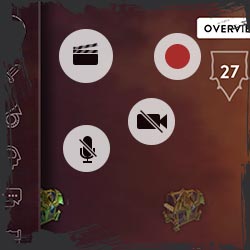 Once a recording mode has been selected, three buttons appear that allow you to turn on/off the microphone and front camera, as well as toggle recording on and off.
Tapping your face will bring up the recording interface or hide it.
You can drag this menu and the front facing camera view around as needed.
Below iOS 10.1, these features are not supported because Vainglory has integrated Apple's ReplayKit. Consider updating your device if interested.
There's no limit on video length, but media does tend to require a large amount of storage space on your device.
---
Part II: Rewatch Your Matches with Free Camera & Slow Motion
Want to relive your triple kill to seal the game? Want to see the Kraken steal from a different perspective? Want to understand what exactly happened that turned the tide of that teamfight? Now, you can watch a full replay of your latest game, complete with a free camera, pans and zooms. You have all the bells and whistles at your disposal that you see during professional broadcasts!
At the end of each match, there will be a new button on the end-game scoreboard that allows you to watch and record a replay of that match.
The replay offers a timeline that will automatically highlight when turrets were destroyed, when the Gold Miner was taken, when the Kraken was captured and when the Vain Crystal was destroyed. You can skip ahead or rewind using the scrub bar on the timeline at your discretion. You can also shift the camera away from your own hero to any place on the map you want. Curious how that enemy Taka reached level 6 so quickly? Watch his path through the jungle and learn! The opportunities to improve from previous matches — both from your allies' and opponents' perspectives — is something with infinite potential.
There's also a slow motion feature that will allow you to control the speed of the video. Want to savor your Lance landing that triple impale? Tap a button to watch that pivotal moment in half or quarter speed. You can also record from replays. Simply drag your finger to the point on the timeline you want to see recorded, tap the "record" button and then tap it again to end recording.
Worth noting: If you exit the game or play another match, that replay is lost unless you've actively chosen to save it.
---
Recap:
Watch a replay of your latest match
Each replay offers a highlighted timeline of important match events
Use the free camera to pan, zoom and change angles to see the action from different perspectives
Slow-motion controls allow you to watch and record the action in half and quarter speed
Go to your profile and tap a button to broadcast or record
Cut, save and share your highlights. Show off to your friends.
Watch others' highlights to learn and get better!
Relish victory. Learn from defeat. Relive past glory. Enhanced replays make it possible.
These recording, streaming and rewatching features are just the next milestone in an ongoing effort to make Vainglory a more social, fun experience for all. We can't wait to see what kind of amazing content players create.
---
AUTUMN MAP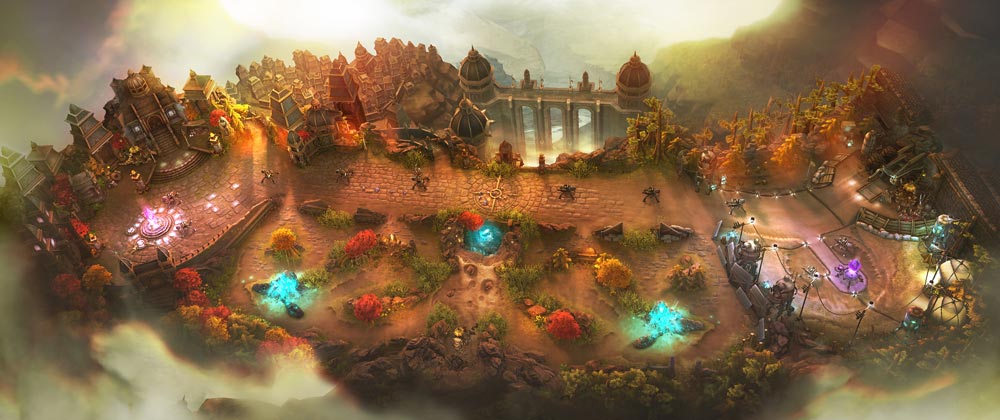 The Bleekos have left the shadows, Flicker has entered the Fold and the Autumn map skin returns, replacing the Haunted map. Use the mini-map to explore all its detail.
---

QUEST CHANGES

Jungle Quests (Capture Kraken, Minion Miner, Gold Miner and Jungle Monsters) can now be completed in bot modes.
Bot quests have been removed for players of all levels. For real this time.

HERO BALANCE CHANGES

KESTREL
GLIMMERSHOT
Weapon Kestrels were able to do some serious amounts of crystal damage without having any crystal behind her shots. These changes make it so that she will need to rely more heavily on her accuracy to do damage and allow for opponents to more effectively counter-build against her. —Zekent
Weapon ratio down from 100-140% to 80-120% (Hotfixed in 1.23)
Crystal damage changed from 40-80-120-160-200 + 160% CR to 35-70-105-140-175 + 170% CR
Crystal damage to minions changed from 40-70-100-130-160 + 25% CR to 30-60-90-120-150 + 30% CR
ACTIVE CAMO
Similar to the Glimmershot change, we wanted to tune down the pain being dished out by weapon Kestrel without hampering crystal Kestrel's ability to sneakily take down her targets. —Zekent
Cooldown reduction from the primary impact of Glimmershot down from 2 to 1.5 (Hotfixed in 1.23)
Damage changed from 120-180-240-300-420 + 220% CR to 100-150-200-250-300 + 270% CR
---
BLACKFEATHER
ON POINT
With the increased Focus generation he received in 1.23, Blackfeather has come back with a vengeance — though he may have become a bit a too tanky when taking advantage of the short cooldown of On Point. —Zekent
Barrier health ratio down from 15% to 10%
---
TAKA
HOUSE KAMUHA 
Taka was gaining a bit too much cooldown from the cooldown multiplier on his perk. This will make him just a bit less slippery. —Zekent
Cooldown from this perk down from 25% to 20% per stack
---
LANCE
STATS
Lance was significantly more durable than any other hero in the early game because of his incredible early-game stats. —Zekent
Base armor down from 35-100 to 30-86
Base shield down from 45-100 to 30-86
GYTHIAN WALL
The numbers for Gythian Wall are now more consistent with how Lance scales with crystal. —Zekent
Crystal ratio of the passive damage reduction increased from 0.1% to 0.15%


---
LYRA
BRIGHT BULWARK
This ability was too frustrating to play against. The slow is now more visibly clear and forces Lyra to position herself properly to get the most out of her Bright Bulwark. —Zekent
Slow changed from an 80% decaying slow to a 20% flat slow
This ability now only slows while the target is within the Bulwark


---

KRUL
SPECTRAL SMITE
With plenty of mobile heroes zooming around The Fold, Krul had a bit of a tricky time sticking to his targets to keep up his weakness stacks. With these changes, his stacks will become a bit more effective when he does close the gap. —Zekent
Krul now has a 0.5% crystal ratio on his weakness stack duration
Lifesteal per stack changed from 10-10-10-10-12% to 10.0-10.5-11.0-11.5-12.5%
---
GLAIVE
STATS
While powerful, Glaive's durability was surprisingly lower than most. These changes bring him more in line with other heroes. —Zekent
Base armor up from 25-64 to 30-86
Base shield up from 25-64 to 30-86
BLOODSONG
Glaive is now able to sustain a bit more effectively than before. —Zekent
Lifesteal per stack up from 0.9% to 1%
---
FORTRESS
PACKMATES
This heroic perk was … confusing. It now grants a fixed amount of speed without first checking for what boots Fortress owned. —Zekent
This perk now grants 1.7 move speed, changed from 1.6-1.8 based on what boots he bought.
---

GWEN
STATS
Gwen didn't quite pack the punch that she needed to. While she has a decent amount of damage and utility in her kit, it was a bit too easy for her opponents to take her out before she could become a threat. This increase in range will allow her to more effectively trade against her foes. —Zekent
Base range up from 5.1 to 5.3
Base weapon damage up from 65-123 to 68-132
BOOMSTICK
Boom! —Zekent
Weapon ratio up from 40% to 50%
BUCKSHOT BONANZA
While mostly used for utility, having a bit more damage on this allows Gwen to poke at her opponents before engaging. —Zekent
Weapon ratio up from 60% to 75%


---
RINGO
TWIRLING SILVER
While Ringo has been a center-point of balance in the past, with many new contenders in the Fold his effectiveness has taken a dip. He will now be able to be more speedy when kiting his targets, which allows him to be a bigger threat on the battlefield. —Zekent
Bonus move speed changed from 0.75 to 0.75-0.80-0.85-0.90-1.00
HELLFIRE BREW
The cooldown of this ability was significantly longer than many similar abilities. It has now been tuned down to be more in line with everything else. —Zekent
Cooldown down from 110-100-90 to 100-85-70


---
OZO
THREE-RING CIRCUS
Since Ozo now has significantly more durability from his Acrobounce, a bit less from his Three-Ring Circus was in order.—Zekent
Heal-per-hero-hit crystal ratio down from 25% CR to 15% CR
ACROBOUNCE
Ozo now has significantly more durability when engaging with Acrobounce. Additionally, his ability to stick to targets has been drastically improved when building weapon! —Zekent
The speed boost after the last bounce now has a weapon ratio of 0.75%
The speed boost duration after the last bounce now has a weapon ratio of 0.25%
Ozo now gains 20-40-60-80-100 + 15% CR fortified health each time he jumps (the takeoff before the bounce)


---

BARON
PORCUPINE MORTAR
This bug significantly reduced Baron's ability to kite his opponents and stick to targets. He should be back in a healthy state with it back in place. —Zekent
Fixed a bug where Baron's Porcupine Mortar was not applying a slow to its targets
---

CELESTE
HELIOGENESIS
These stars were hitting just a bit too hard, making it far too difficult for Celeste's foes to close in on her. —Zekent
Primary impact damage down from 120-170-220-270-320 + 100% CR to 100-150-200-250-300 + 90% CR
Minion damage changed from 120-145-170-195-220 + 25% CR to 100-135-170-205-240 + 20% CR
---
BUG FIXES
Fixed a bug where stealth would override the reveal from Scout Traps and Celeste's heroic perk.
Fixed a bug where Samuel would be considered a melee hero (Book of Eulogies)
Fixed a bug where Alternating Current could be triggered for one hit if it was already armed — even if you sold the item.
Changed recommended items for Catherine and Baron
Celeste's Solar Storm now properly deals 50% damage to non-heroes
Removed out-of-turret-range damage reduction from: Celeste's Heliogenesis, Skaarf's Spitfire and SAW's Suppressing Fire
Fixed some text inaccuracies with various heroes (no gameplay change): Ardan, Alpha, Gwen, Catherine, Celeste, Glaive, Joule, Kestrel, Reim, Rona and Taka
---
WALLPAPERS
For pretty much ever, players have been requesting mobile-sized wallpapers of their favorite heroes and skins. We heard you! Now, you can put your favorite piece of Vainglory art on your device with these free downloads. 
Flicker
---
Sorrowblade Glaive (Tier II)
---
Shiro Kage Taka (Tier III)
---
Bakuto Ringo (Special Edition)
Killer Bunny Rona (Special Edition)
Red Lantern Koshka (Special Edition)
---
Remember: If you enjoy Vainglory, please rate the game in the iOS App Store, Google Play or Amazon Appstore. Spreading the word about Vainglory is a great way to grow the community!