This week's free hero rotation honors the players in the monumental VIPL semifinal battle of Gankstars (NA) vs. pQq (Korea) — and the heroes they played so incredibly well. Watch the replay now, and then try to emulate CullTheMeek's game-changing Glaive, druid & IraqiZorro's Vox, gabevizzle & Mauloa's Adagio and much more. Watch the second semifinal between Invincible Armada (Korea) and Hunters (China) Thursday at 5AM PDT/2PM CEST/9PM KST or on-demand after the live broadcast.
SEMIFINAL REPLAY ON OGN
---
 FREE HERO ROTATION
GLAIVE (JUNGLE/WARRIOR)
Glaive has one of the most feared abilities in the game: a jet-powered Afterburn strike that will slice through you and blast you back into a tactically fatal position. In teamfights, Glaive's area-of-effect cleave and Bloodsong lifesteal makes him incredibly hard to bring down.
---
RINGO (LANE/SNIPER)
Ringo is often played as the primary damage dealer for his team. He can shoot at blinding speeds and finish off fleeing enemies with an epic fireball that follows foes across the battlefield. Incredibly weak in the early game, Ringo players should focus on earning as much gold as possible in the lane before picking big fights.
---
ADAGIO (ROAM/PROTECTOR)
The master manipulator of large-scale battles, Adagio brings incredible teamfight presence with huge area-of-effect damage and team-saving abilities. He almost seems too good: He can heal. He can amplify damage. He can stun and nuke the entire enemy team … but none of these can be achieved easily without team-wide coordination. Adagio is extremely flexible and can start as laner, jungler or roamer.
---
VOX (LANE/SNIPER)
Vox is a mobile sniper with a high-energy playstyle, with quick dashes and excellent teamfight repositioning. Vox deals significant damage either to a single target or to groups of enemies depending on his build. This flexibility allows Vox to react according to the needs of his team.
---
CELESTE (LANE/MAGE)
Celeste commands the stars, drawing upon their power to overwhelm opponents. Her star formations help keep enemies at a distance as well as finish them off as they flee. Start Celeste in the lane and fight from the furthest edges of battle.
---
CATHERINE (ROAM/PROTECTOR)
Catherine brings the most reliable stun and disruption skills to teamfights and ganks. Hard to kill and great at chasing, she can secure kills and turn around fights that would otherwise be lost. Catherine can soak up damage and strike fear on sight. She is best roaming between jungle and lane. 
---
ABOUT THE TEAMS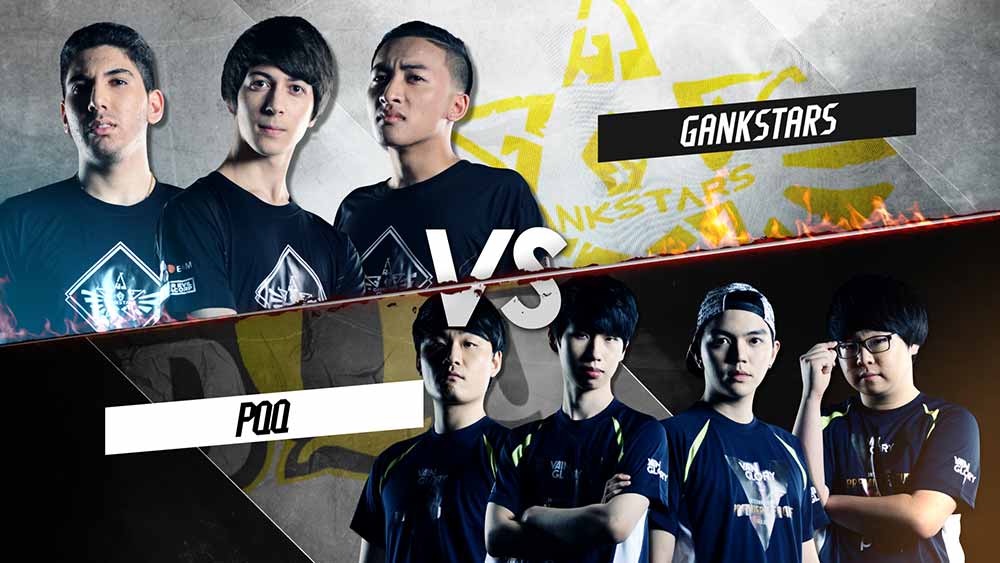 pQq won the first East Asia Championship over Japanese powerhouse Divine Brothers and Korean rival Invincible Armada. Their strong play resulted in another deep run in the VIPL, including an undefeated group-stage performance through the "Group of Death." Their play was highlighted by the now-famous laning of Druid, one of the most perfect CSers in the world. Watch pQq play at http://is.gd/LOXATo and follow them on Twitter: @pQqEA.
EA최초 챔피언쉽 우승 OGN에서 주최한 정규리그 VIPL 조1위로 본선진출 죽음의조라고 불리던 A조에서 전승으로 4강진출한 경력. 현재 동아시아에서 가장 영향력있는 팀이다.
---
Gankstars is the reigning North America champions and third-place finisher in the OGN-organized World Invitational. In additional to the Gankstars Sirius team playing in Korea, Gankstars Cerberus is the top-seeded team in the ongoing VGL NA 128-team Qualifier tournament. Learn more about Gankstars at http://gankstars.org/.
---
ABOUT THE FREE HERO ROTATION
The free hero rotation unlocks six heroes each week to play as long and as much as you want in the Casual queue. It's an opportunity to test drive heroes before using ICE or Glory to unlock them. The free rotation changes every Tuesday and heroes in the rotation usually won't return for a few weeks or months afterward, so unlocking heroes is always worthwhile. The free rotation does not apply to Ranked play to ensure players are already very familiar with the heroes they play in that try-hard environment with skill tiers at stake.