ALTERNATE FATE LORE
---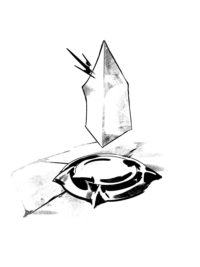 You're celebrating with your team, your pockets stuffed full of crystal shards, your financial troubles behind you. Blackclaw naps with his tail wrapped around the destroyed Vain Crystal, his snores poofing out black smoky puffs. You're smoothing back your hair with your palms, getting ready to ask this Koshka girl out for coffee, when Blackclaw's belly blasts open. Guts fly everywhere.
"Poor thing," says the cowgirl.
"Ew," says the mech driver.
"Bad gas?" asks the Grangor.
"Noooooo!" wails Koshka.
Out of the belly of the dragon steps the huge masked guy, dripping in oozing goo. He sets down his huge gun and wipes his face.
"What? Were you all just gonna leave me in there?"
THE END
To go back to the beginning, tap here.