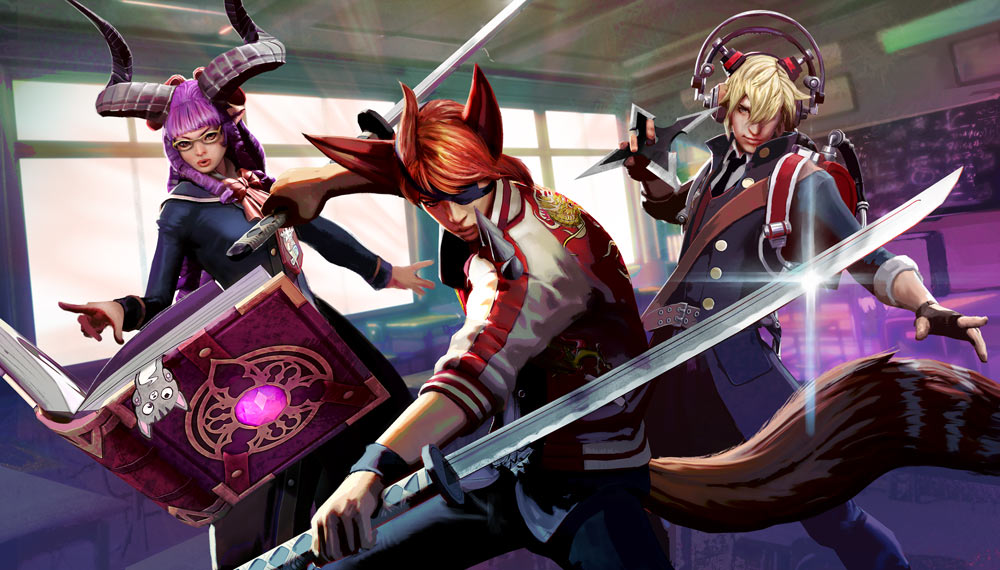 ---
'SCHOOL DAYS' LYRA (rare)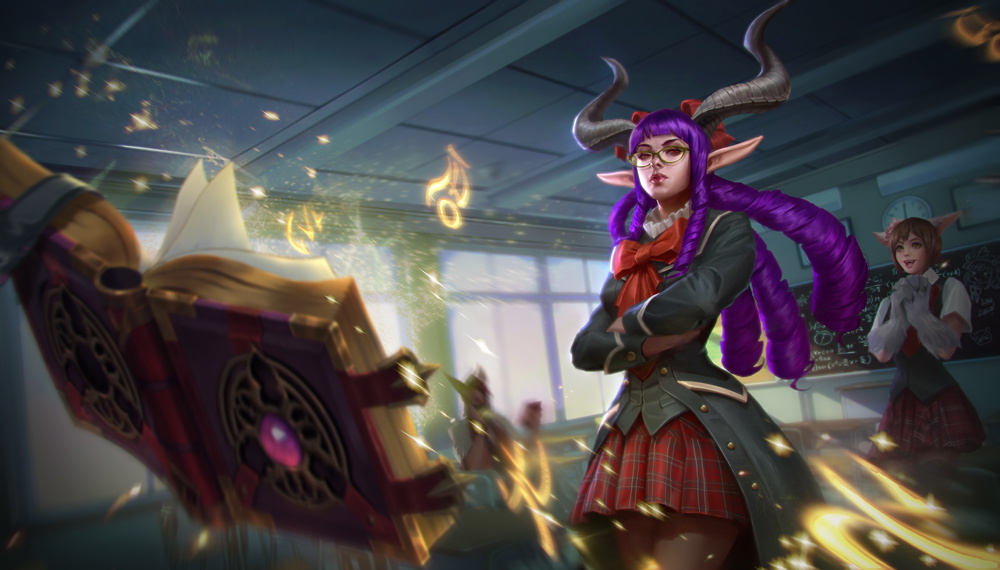 ---
'School Days' Lyra rules her school, and she's here to teach you how to be one of the cool kids. Do you make the cut?
---
SEE HER IN-GAME!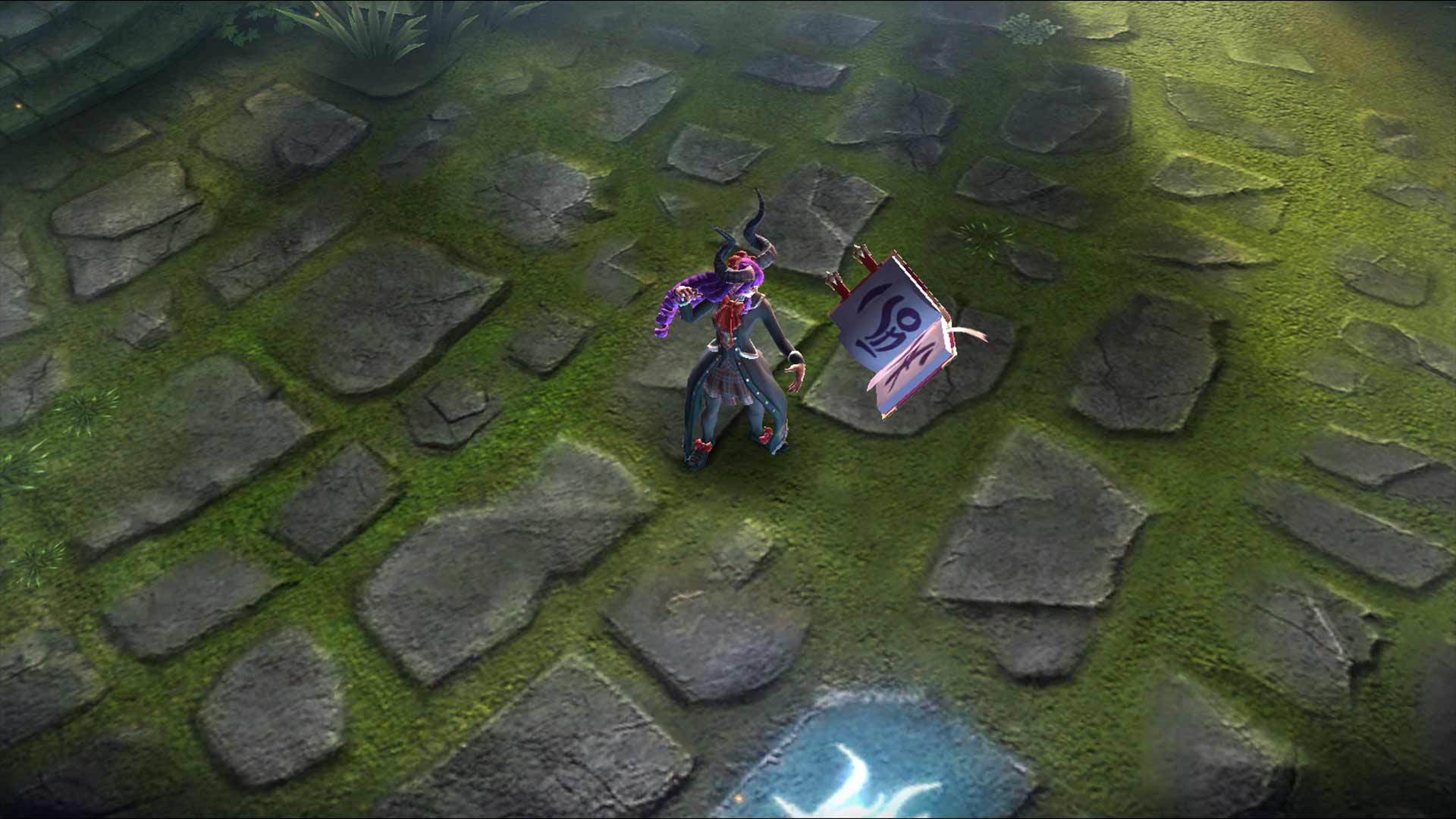 ---
MODEL CHANGES
School uniform with matching overcoat & school emblem
Bows, bows, bows! Bows on shoes, necktie and hair
Twisting horns
Gold glasses
Fancy book with embedded Halcyon gem
Googly-eyed kitty bookmark
---
ALTERNATE FATE LORE
The Class President
So you want the best lunch table. You want teachers to step out of your way in the hall. You want everyone in school to know your name. You want to be class president. Hah! Everyone thinks they can be in charge until they're herding a bunch of unruly sheep-eyed adolescents with raging hormones, questionable morals and underdeveloped prefrontal cortexes. But I'll give you a few pointers if you think you can make the cut.
First: Fashion must be on point – within the confines of the school uniform, of course. Right now, bows are in. Bows on shoes, bows in hair, bows on blouses. Also acceptable: embroidered satin bomber jackets, old school tech and high top sneakers. When I decide something is in, the student body follows, or they can take a portal away from my eyeline.
Second: Excellence. There is no such thing as a B. You don't skip extra credit assignments. You don't sleep. You do not get the sniffles or the flu. You don't join clubs, you start them.
Third: You know everything. It's all in the book: birthdays, who's dating who, which rival school the soccer team is playing next week. And if the president of the Glee Club gets a C on her chem midterm, the glare of disapproval in your eyes will banish her to some other lunch table… and encourage her to study more next time.
Fourth, but most important: For high school, you're going to need a squad.
---


PHONE WALLPAPERS
---
'SCHOOL DAYS' VOX (epic)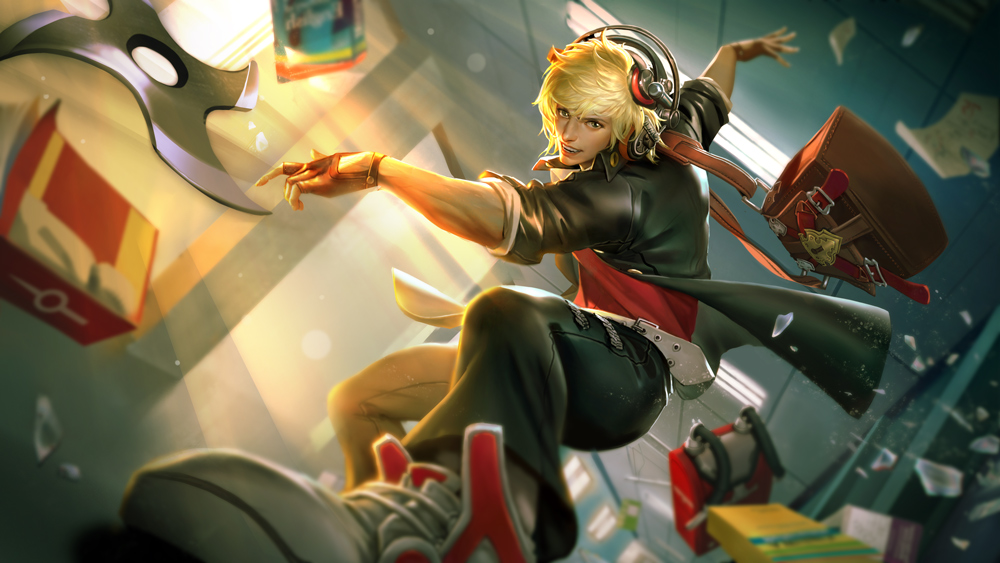 ---
'School Days' Vox throws the best parties. Read on to find out how he secured his place in the school's top squad.
---
SEE HIM IN-GAME!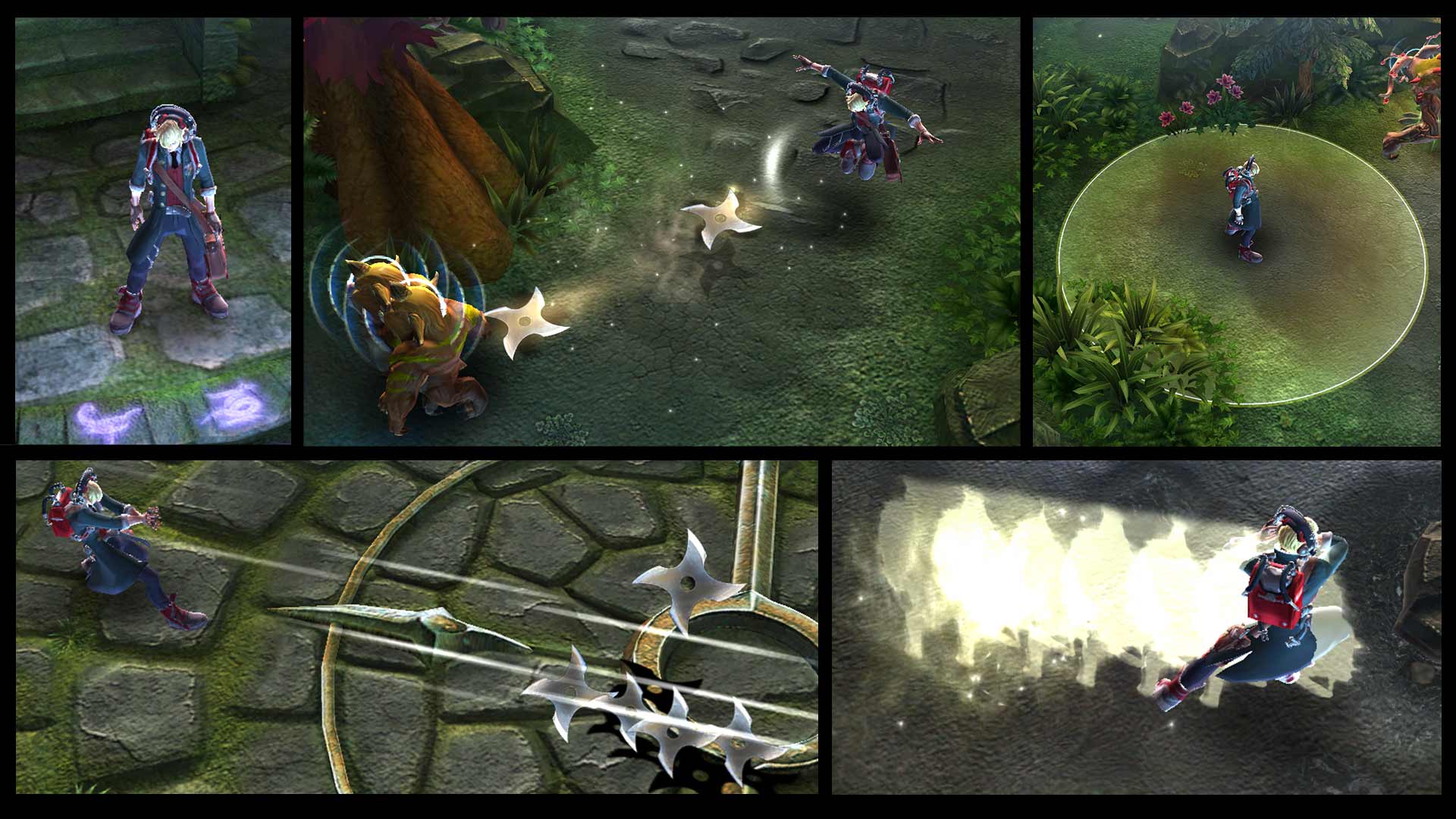 ---
MODEL CHANGES
School uniform with matching overcoat & school emblem
Satchel and backpack with scifi tubing
Old school tech headphones and cool new haircut
Throwing stars
Big zippers, belt and fingerless gloves
Futuristic high top sneakers
EFFECTS CHANGES
Flashy yellow skids on Sonic Zoom
Throwing star basic attacks
Volley of throwing stars on Wait For It
---
ALTERNATE FATE LORE
Leader of the Band
If you're in this game to be liked, back out now. No one is going to like you; what you want is their fear. But every tyrant needs a sweetheart who will say things like, She's super nice when you get to know her. A charming, front-facing party guy.
Vox is that guy. Straight A's, big grin, great style, hair flopped over one eye, one fist dug deep in his pocket, starts every conversation with "Huh?" while pulling headphones away from his ears, has no idea how good looking he is, always has the coolest tech, the best dancer. Head of the DJ Club and band leader. Kids like him. Teachers like him. Pets like him. Everyone likes him.
He turns streamers, a school gym and a punch bowl into a mindblowing homecoming dance, and he throws all of my parties. He manages the guest list, he spins the remixes no one's heard yet and he breaks up fights with calm words – or throwing stars and sonic zooms.
---


PHONE WALLPAPERS
---
'SCHOOL DAYS' TAKA (legendary)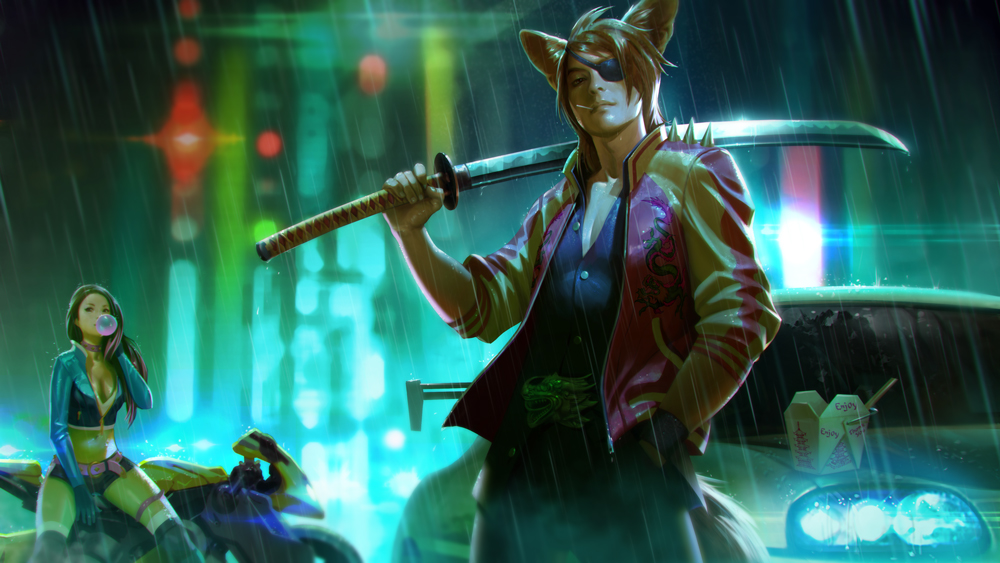 ---
'School Days' Taka keeps the student body honest. Cheaters beware – that isn't just a takeout box!
---
SEE HIM IN-GAME!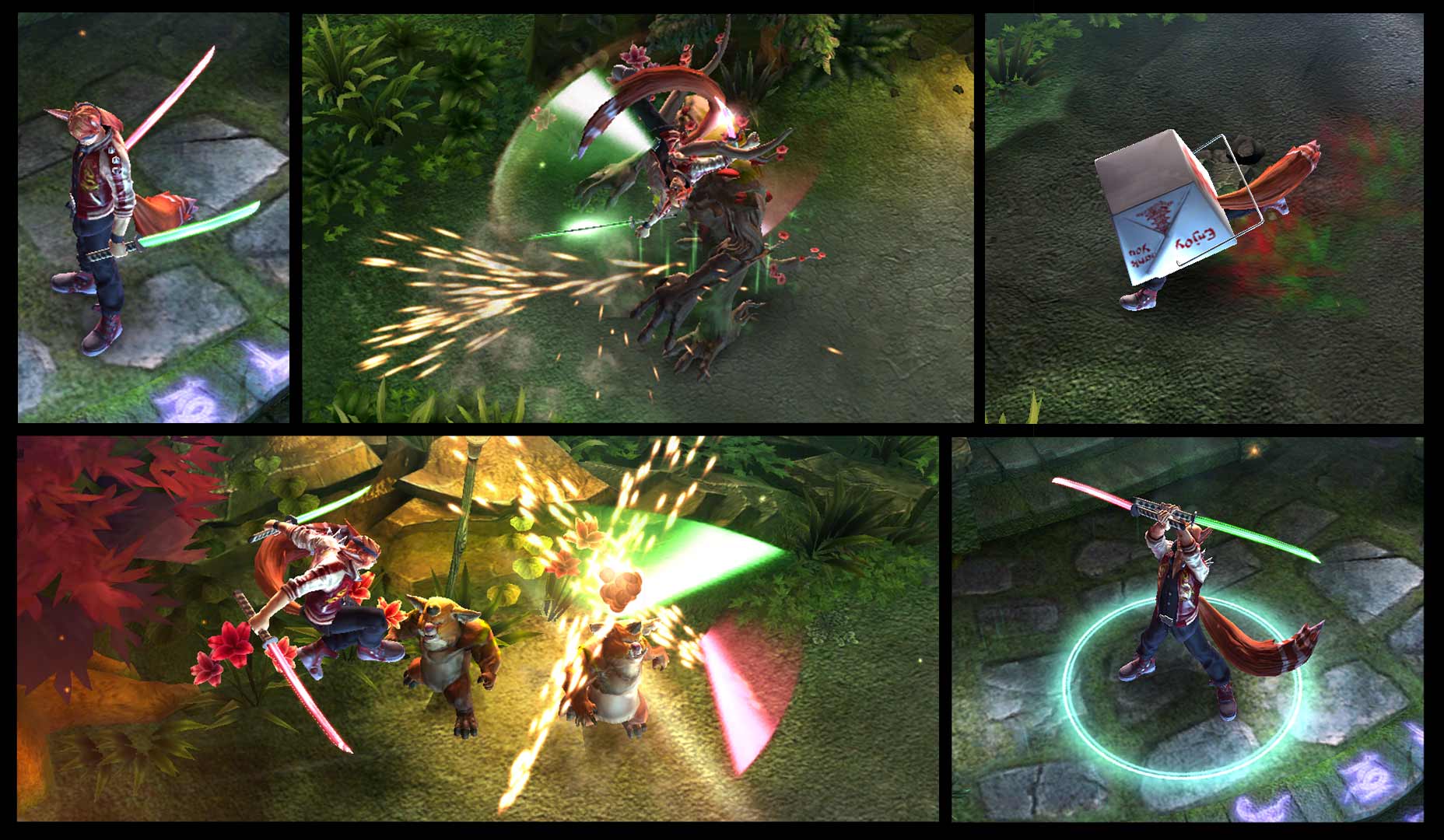 ---
MODEL CHANGES
Kendo club katanas
Eyepatch
Maroon satin sukajan jacket with dragon embroidery
Silver dragon belt buckle
Futuristic high top sneakers
Takeout box
EFFECTS CHANGES
Glowing red and green effect on katanas
Green and red Kaku smoke bomb
Banging katanas together makes menacing sparks!
ANIMATION CHANGES
Katanas now detached from Taka's arms
Brand-new combat poses and attack animations
Out-of-battle blade flourish
Dramatic new recall and death animations
---
ALTERNATE FATE LORE
Kendo Club Master
The class presidency isn't all studying, campaigning, scheduling, scheming and partying. Teenagers get out of line. Every school has its low-level bullies, ditchers, spraycan outlaws, lunch money wranglers, name-callers and angry jilted lovers. It's not their fault; they just need guidance.
And that's where Taka comes in.
Taka is a personal success of mine. I found him running a black market ring of cheat sheets and plagiarized essays. I took that bad boy under my wing, made him head of the kendo club, and put him to work fighting the unscrupulous students he'd once rallied. He's cute, in a furry-eared way, always with a big belt buckle and the perfect comeback.
He once popped out of the shadows in a poof of smoke right in front of someone ditching trig. The terrified kid ran back to class, got an A on a quiz, and joined the math club just to be safe. Taka breaks up PDA with his one-eyed glare and one time, when a freshman had his lunch stolen, Taka burst out of the shadows and stabbed the lunchbox right out of the thief's dirty hand. Sliced the PB&J inside right in half – diagonally. The school is so safe now that the principal had katana holders installed into all of Taka's desks.
All he needed was a little direction. He barely remembers his mischievous former life.
---


PHONE WALLPAPERS
---
Read Lyra's canon lore:
The Consequence and The Inception
The First Mistake
Read Vox's canon lore:
Impossible Decision
Above Boiling Bay
The Masker Rage
Vanguard Up!
Escape to the Fold Part I
Escape to the Fold Part II
Read Taka's canon comic: