'Cagefighter' Ardan is defending his title in a brutal fight against the up-and-comer, Meat Truck. Keep reading to learn more about this essential epic skin!
---
MODEL, ANIMATION & SFX CHANGES
Drops a FLYING ELBOW into a CAGE for Gauntlet ultimate!
MMA glove and power-punch gauntlet
Championship belt
Shin guards & mixed martial arts shorts
New two-tone hairstyle and facial hair
Winged back and "JULIA" heart tattoos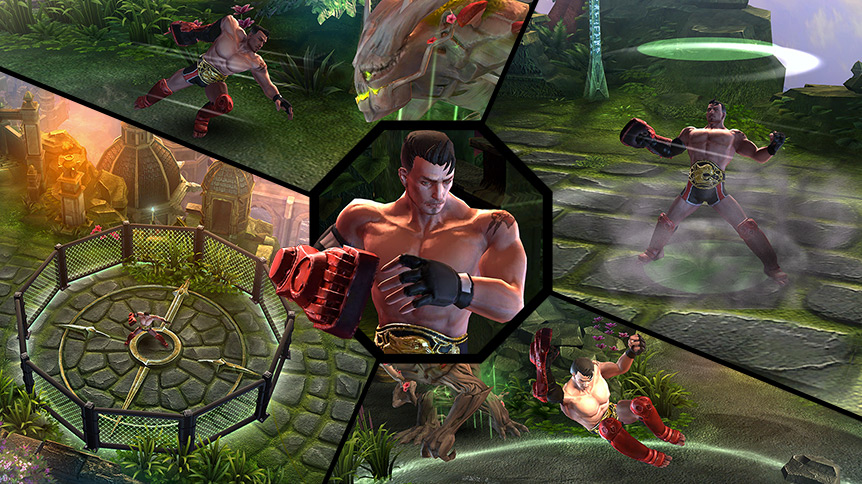 ---
ALTERNATE FATE LORE
Fight Night
SUGARVENOM: Hello and welcome to Fight Night on the Halcyon Fold! I'm here with Playoffbeard live at the final matchup of the evening, the one you've all been waiting for: 'One Punch' Ardan is all set to defend his title from Meat Truck, the up-and-comer who's been running over his opponents.
PLAYOFFBEARD: The smack talk has been brutal over the last several weeks. Meat Truck is notorious for getting into opponents' heads on social media, but Ardan maintained that he respects all of his opponents and just wanted a good clean fight …
SUGARVENOM: … that is, until Meat Truck posted, and I quote: "MAYBE IF ARDAN BETTER FIGHTER, JULIA STILL BE ALIVE."
PLAYOFFBEARD: Yikes.
SUGARVENOM: That's when the drama started. Now there's no love lost between these two.
PLAYOFFBEARD: Ardan is pacing the cage, maintaining eye contact with Meat Truck while the ref gives instructions. SugarVenom, do you think Ardan is feeling the pressure?
SUGARVENOM: If he is, he isn't showing it. Ardan is the most focused fighter to have competed in this cage, but he'll still have to use every advantage to secure a K.O. tonight.
PLAYOFFBEARD: Meat Truck will be looking for one big hit to end the fight early, but we're going to see a clear dexterity advantage from Ardan.
SUGARVENOM: Dexterity won't help when Meat Truck decides to charge – but he might eat Ardan's power gauntlet on contact.
PLAYOFFBEARD: Of course, we all know what the fans are excited to see …
SUGARVENOM: … Ardan's flying elbow drop.
PLAYOFFBEARD: It's such a deadly finisher. If Ardan can pull it off early, I'd bet that Meat Truck won't leave many tire tracks in this cage.
SUGARVENOM: And there's the bell. Round one has begun!
---
Read Ardan's canon lore:
WALLPAPERS