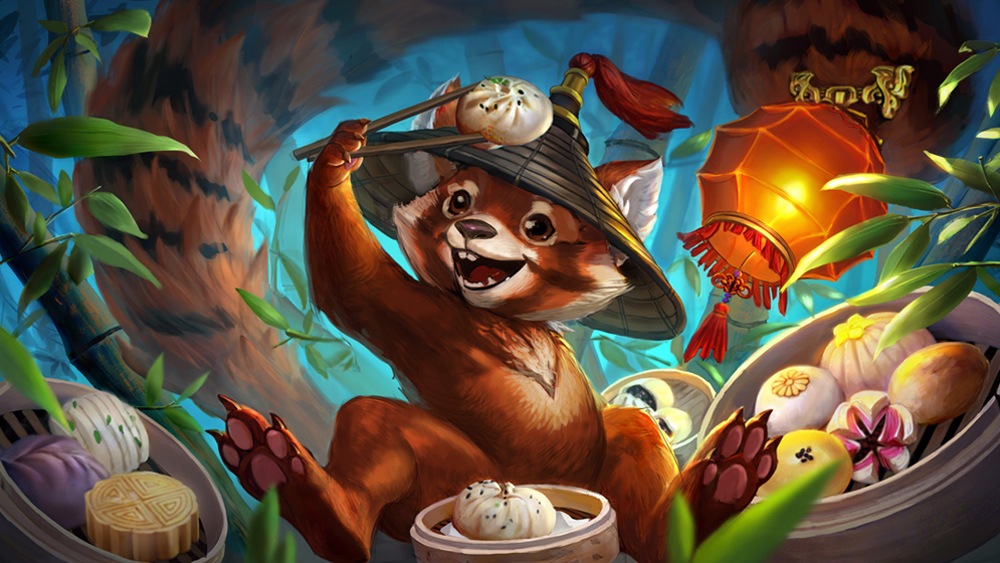 It's never too early to prepare for the Red Lantern Festival. Follow 'Red Lantern' Flicker's delicious dumpling recipes for good luck all year long!   
---
CHECK HIM OUT IN GAME: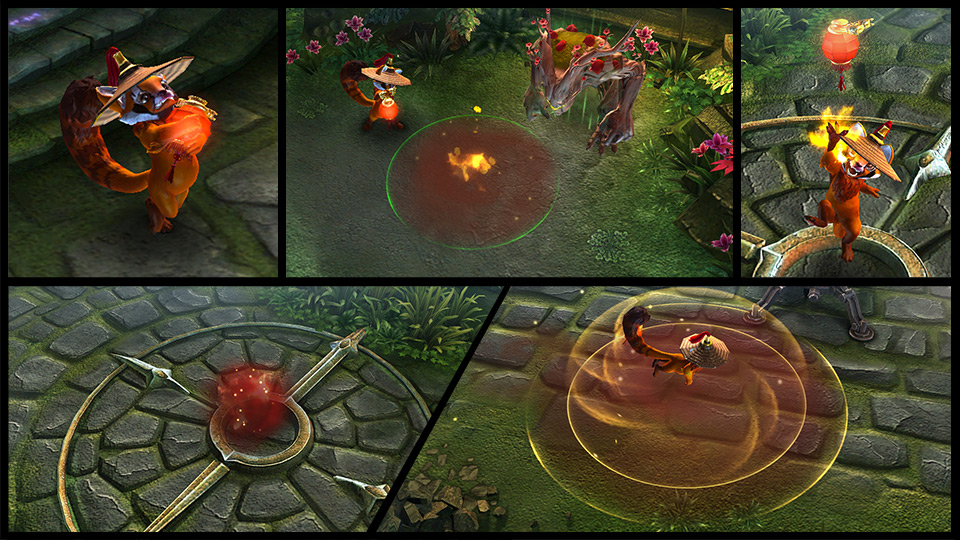 ---
MODEL & EFFECT CHANGES
Flicker is now an adorable pot-bellied red panda!
Bamboo conical hat
Paper lantern with festive red glow
Brand new red smoke cloud effects
Flame effect on Binding Light
---
ALTERNATE FATE LORE
Flicker's Best Red Lantern Festival Dumpling Recipes
Be sure to raid the Meekos gardens for the freshest ingredients!
Boiled Hornworm Dumplings
Steam your cabbage and mix with fresh ginger, garlic, sesame oil, salt and ground hornworms plucked straight from the tomato plants. Cut your dough into rounds – do not make your dough too thick! One must take care to create the perfect ratio of bug meat to carbohydrate.
Place a tablespoon of chilled filling into the center of your dough rounds and fold over one side to form a half-circle, pressing to adhere. Pleat a nice decoration along the edge, then boil your dumplings until the hornworms are cooked through, about three minutes or to taste.
Dip in a sauce of fermented rice juice, soy sauce, vinegar and fresh scallions ripped from the head of a Meekos.
Jumil Dumpling with Chile-Sesame Sauce
Heat oil in a skillet until shimmering. Add mushrooms, scallions, bok choy and carrot and stir-fry until tender. Add chile-garlic sauce and cook until the liquid evaporates, then chill. Fold wonton wrappers into triangles and keep them open and ready. Spoon the prepared filling and a few whole, live jumiles into the wrappers and quickly, before they can crawl out, seal the edges and press out any air trapped inside. Bake dumplings seam-sides up. The stink bugs have a pleasing bitter-cinnamon flavor that complements the chile sauce. If they survive the baking, they will wiggle in your mouth in the most pleasing fashion!
Serve with a sauce of black bean sauce, chiles, toasted sesame oil, and fresh ginger.
Scorpion Dumpling Pancakes
In a large bowl, mix together scorpions, scallions, finely chopped spicy fermented cabbage, two garlic cloves and three well beaten quail eggs. Brush gyoza wrappers with water and drop filling in the centers. Fold the wrappers to form half-moons and press the edges together. Fry in a skillet until golden on the bottom, then drizzle with a slurry of cornstarch and water. Cook until the slurry forms a thin crust.
Serve with a dipping mixture of soy sauce, vinegar, crushed red pepper, sesame seeds and sugar.
---
Read Flicker's canon lore:
---
WALLPAPERS